Posted on April 13th, 2021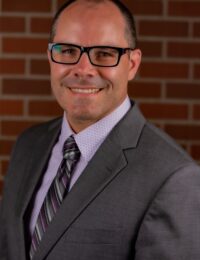 Dr. Luke Goble promoted at Warner Pacific University
Warner Pacific University (WPU), the first federally-recognized minority serving institution (MSI) in Oregon, promoted Dr. Luke Goble to serve as vice president of academic affairs and dean of faculty. His previous post at the university was chief innovation officer.
Goble received his A.B. from Harvard University in English Literature and Ph.D. from SUNY Buffalo in American Studies with a focus on the role of race in nation-building throughout the Americas.
"As vice president for academic affairs, I'm leading efforts to implement best practices in teaching and learning for equity in the context of a diverse student body," said Goble.
He has taught a wide variety of classes on subjects relating to the history of race and racism, immigration, religion, politics, reconciliation after war, and social movements. He is also active in church and community organizations related to immigration, refugees, housing, and foster care/adoption.
"For the past several years, Luke Goble's tenure at Warner Pacific shows he is a person of incredible energy, commitment and leadership. The focus of his life's work is very important to our mission to be inclusive of people from diverse backgrounds and experiences," said the university's president, Dr. Brian Johnson.
Goble is the author of Worshiping Politics: Problems and Practices for a Public Faith (Cascade Books, 2017). He came to Warner Pacific in 2007, and was previously the division chair of arts and letters for six years prior to taking on the role of chief innovation officer in 2019.
"I am passionate about seeing all students succeed academically and thrive as whole people in the world. Having previously been in the classroom for 13 years, I am excited now to equip and empower faculty to achieve ever-greater impact," Goble said.
Warner Pacific University was founded in 1937 and moved to SE Portland in 1940. It is a four-year Christian liberal arts university with professional and graduate studies.
---