Posted on September 26th, 2023 in News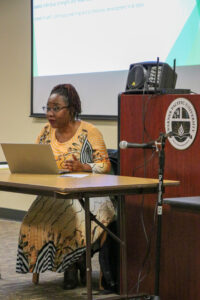 Faculty lectures have made a comeback in the current academic year, with Dr. Gladys Jadagu (Dr. Gladys), an Assistant Professor of Business at WPU, spearheading the inaugural session. The topic of this lecture was "How AI is impacting and reshaping the academic landscape." 
Dr. Gladys initiated the lecture by quoting Proverbs 18:15: "The heart of the discerning acquires knowledge, for the ears of the wise seek it out." This biblical verse served as an anchor for the ensuing conversation. 
She then explored how AI is revolutionizing academia. She delved into its role in research and education, emphasizing the need for academia to take a proactive stance in ensuring a balanced relationship between technological advancements and ethical scholarly practices. 
"Faculty must quickly embrace AI as an ally and actively strive to enhance their understanding and engagement with it," stated Dr. Gladys. "AI is the new personal assistant that students and researchers are progressively heavily relying on. Making the personal effort to learn about the pros and cons of AI will enable us to ensure its responsible utilization by our students." 
The AI landscape is constantly and rapidly evolving. "It's crucial that we as educators secure a place on the AI developers' platforms and spaces," Dr. Gladys continued. "This way, our concerns and requirements, particularly the importance of fostering a culture of originality, proper citation practices, and ethical conduct to combat plagiarism and encourage creativity, can be adequately addressed." 
Thank you, Dr. Gladys, for leading our first faculty lecture of the year, and we look forward to hosting more throughout the year!  
---