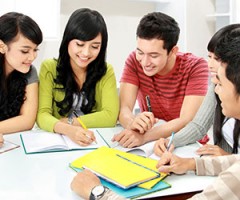 Warner Pacific's Academic Success Center helps all students achieve their academic goals by providing individual tutoring, mentoring, and study groups on a variety of subjects. Staffed by the director Rod Johanson, a coordinator, and student tutors, the Academic Success Center also assists students in setting academic goals, establishing good study habits, and developing time management strategies.
Academic counseling in study habits, goal setting, test taking, note taking, and other academic skills are available by appointment.
Tutors:
Tutors work year round but schedules do change so be sure to check. The current Tutoring Schedule is posted below as well as on student (traditional or ADP) dashboards. For your convenience, tutors, subjects, and campus emails are included on the Tutoring Schedule. If the posted hours don't work, you are welcome to email the tutor to check for availability of alternative hours (which are not guaranteed).
The tutors are students who have been recommended by course professors. They choose to tutor because they have a firm grasp of the subject and they like to help others. Many have struggled through some of the same tough questions they will be answering during the session.
All Students:
Academic assistance
Resources to support classroom success
Writing Support and Resources
Starting an Assignment:
Grammar & Style:
Citation:
Traditional Undergraduate Students Only
A course in study skills and critical thinking (CLS 110)
Academic mentoring
Adult Degree Program Students Only
Tutors for most business courses and Math Concepts
Contact:
The Academic Success office is located in Smith Hall, D Wing, Room 216.
During the academic year, the Tutoring Office is located in the center of the Warner Pacific Library on the Mt. Tabor Campus and can be reached at 503.517.1122.
The contents of external websites are beyond  Warner Pacific's control.