Posted on May 31st, 2023 in News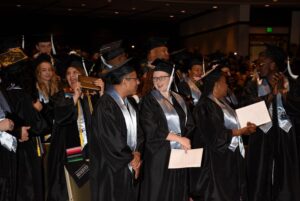 A new generation of Knights will now take their place among WPU alums, and their chosen professions as faith-filled leaders. On Saturday, May 13th, Warner Pacific University celebrated the graduation of 130 students which consisted of 21 master's degrees, 106 bachelor's degrees, and 3 associate degrees. In addition, 35% of the class of 2023 identified as first-generation college graduates. The ceremony was held at Sunset Presbyterian Church in Beaverton for the first time and was attended by family, friends, faculty and staff, and honorary guests of our beloved graduates.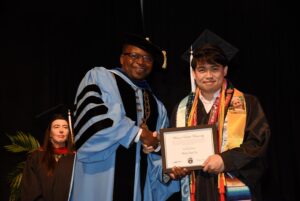 The ceremony continued with the presentation of awards. Dr. Miriam Chitiga—WPU Interim VP for Academic Affairs—presented the Wilma I. Perry Award for transformation. This year's award was given to Robert E. Harris '23, who graduated with a Bachelor of Science in Psychology and Human Development. Dr. Sabrina Edwards—VP for Student Success & Engagement—presented the Milo L. Chapman Award for service. This year's recipient was Briseyda Avila-Rojas '23, who graduated with a Bachelor of Science in Biological Science. Dr. Chitiga also presented the third award, the Marshall K. Christensen Award for academic excellence. The recipient of this award was Benita Astorga-Rollins '23, who graduated with a Bachelor of Social Work. The final award, the A.F. Gray Award, was presented by President Johnson. This award is given to a student that exemplifies the mission, vision, and values of Warner Pacific University. The recipient of this award was Tee-Yen Too '23, who graduated with a double major in Biological Sciences and Kinesiology.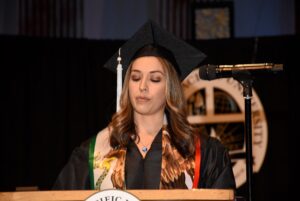 Following the awards, we heard from two student speakers addressing the class of 2023. The first speaker was Brianna Avalos '23, who graduated with a Bachelor of Science in Biological Sciences and was chosen as the Traditional Speaker. "Once I started my educational journey at WPU, my life changed," Avalos stated. "I can truly say I have been challenged and pushed to my highest potential. I've learned that we are all capable of creating the life we desire with faith and community support."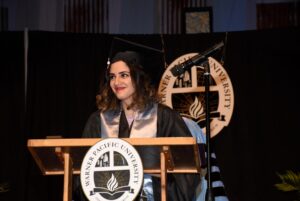 Reem Alkattan was the second speaker representing the Professional and Graduate Studies student cohort. She graduated with a Master of Arts in Organizational Leadership. "I am sure all my fellow PGS graduates would agree that completing a master's degree program is not easy and a path that is full of challenges," Alkattan stated. "But it is worth the patience and worth the hard work and we have achieved it together."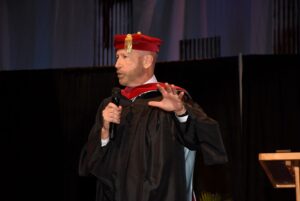 We were blessed to hear from this year's Honorary Speaker, Jim Lyon, who is the Church of God General Director. Lyon gave a compelling address to the class of 2023 about understanding your beginning and how it paves the path to where the graduates are now. Pastor Lyon stated: "You have to believe that if you place your life in alignment with the Creator who imagines you, that He brought you into being to do good works for which you have now been marvelously prepared through your investment in this university and education, that you can find fulfillment and you can yourself be full and on the adventure of eternity in this world now—if you make that choice to understand your beginning and to surrender into that plan of God."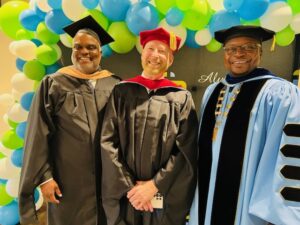 Commencement resumed with the presentation of diplomas, and following, President Johnson delivered his address to the graduating class. "Always remember careers only fill your pockets. Callings are what will fulfill you as a person. Your career linked to a calling is going to fulfill great purposes and we believe it'll be those purposes that will be for the glory of God," stated Johnson. "So, with that, I'd like to charge you to go forth, but make sure you go forth with God." 
Congratulations once again to our spring Class of 2023! We are so proud of you and wish you the best in all your future endeavors. Go Knights!
---