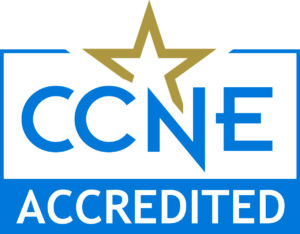 The baccalaureate degree program in nursing at Warner Pacific University is accredited by the Commission on Collegiate Nursing Education (http://www.ccneaccreditation.org).
Promote Caring, Safety, and Leadership through a Career in Nursing
Our Nursing Programs exist to educate and prepare students with diverse backgrounds to flourish as professional nurses who advocate for their patients. Faculty and students co-develop and nurture future nurses who are self-aware and comfortable in multi-cultural settings. Our students demonstrate professional skill, ethical practice, compassionate care, a collaborative spirit and a commitment to lifelong learning and nursing excellence.
RN Licensure Process
Warner Pacific (WP) University's Division of Nursing follows the RN licensure statute required by the Oregon State Board of Nursing (OSBN) (Oregon Nurse Practice Act – Division 21). BSN students who have completed all program requirements are eligible to sit for the NCLEX-RN; however, program and NCLEX-RN success do not guarantee eligibility for RN licensure. In particular, the OSBN may not license certain individuals related to prior criminal histories.
If concerned about the impact of health-related diagnoses or findings on a criminal background check, the student is encouraged to contact the OSBN or the board of nursing in the state in which the licensure application will be submitted. The OSBN reviews situations on a case-by-case basis but cannot guarantee a student's eligibility for RN licensure.
WP's BSN Degree Program provides students with information regarding the application process for RN licensure and the NCLEX-RN in the last semester of their baccalaureate program. OSBN provides necessary related steps: (a) students apply to the OSBN and pay required fees; (b) after all final grades have been posted, the BSN Degree Program's Nurse Administrator (Dean) submits the date of graduation through the OSBN portal; (c) still eligible graduates receive an email from Pearson-Vue that includes an Authorization to Test with a proposed testing date/site. OSBN resolves any licensure issues after all steps have been completed.
Requirements
To gain entry to the WPU Nursing Program, applicants must complete:
Warner Pacific University application
Verification through transcript analysis by WPU's Records Office of a cumulative grade point average (GPA) of 2.5 or higher from all previous college coursework.
Nursing application essay answering the following question: Diversity is a core theme of Warner Pacific University, and increasing diversity in nursing is a goal of the Division of Nursing. In 500 words or less (typed, double-spaced with one-inch margins), please discuss why you think it is important to have diverse persons in healthcare delivery and how in the future you will contribute to diversity in nursing.
Submission of your information regarding current or previous healthcare experience. You may upload a resume or short response that identifies any current or previous healthcare experience and any education, training, license, or certification you have had in a healthcare-related field (e.g., LPN, CNA, EMT, Military Medic, etc.).
Submission of two professional recommenders and their contact information.
Verification through transcript analysis by WPU's Records Office for completion of the following prerequisite courses:
Human Anatomy & Physiology series (not introductory), equivalent to two semesters, completed within the past seven years
1 course in Microbiology with lab, completed within the past seven years
1 course in Chemistry with lab (>100 level), completed within the past seven years
1 college level Math course (>100 level)
1 course in General Psychology
1 course in General Sociology
1 course in Life-Span Human Development
Junior standing with completion of WPU general education core requirements
Verification through transcript analysis by WPU's Records Office of a cumulative GPA of 2.5 or higher on all prerequisite science courses taken within the past seven years. Note: For science courses taken more than once in the past seven years, the Records Office will use the higher GPA of the first two attempts for this calculation.
The Division of Nursing reserves the right to request an interview (virtual or face-to-face) to determine fit with the BSN Degree Program. The Division of Nursing will make decisions and will notify accepted students by phone and email. Those accepted in the next BSN Degree Program cohort will submit a $200 tuition deposit to secure their spot.
Courses
ILR 300 | Advanced Information Literacy and Research | 3 credits
NURS 210 | Interprofessionalism | 2 credits
NURS 301 | Pathophysiology | 3 credits
NURS 302 | Pharmacology | 3 credits
REL 320 | Spirituality, Character & Service | 3 credits
NURS 336 | Health Assessment & Health Promotion | 4 credits
NURS 340 | Medical-Surgical Nursing I: Providing Care | 5 credits ‡
NURS 350 | Diversity, Equity & Advocacy | 3 credits
NURS 370 | Research, Statistics & Evidence-Based Practice | 3 credits
NURS 380 | Maternal & Neonatal Health Nursing | 3 credits ‡
NURS 390 | Elective Externship | 2-3 credits
NURS 400 | Child & Adolescent Health Nursing | 3 credits ‡
NURS 410 | Family & Community Health Nursing | 3 credits ‡
NURS 440 | Medical-Surgical Nursing II: Managing Care | 6 credits ‡
NURS 460 | Leadership I: Epidemiology, Prevention & Informatics | 3 credits
NURS 470 | Mental Health Nursing | 3 credits ‡
NURS 480 | Leadership II: Caring, Safety & Leadership | 3 credits
HUM 310 | Exploring the Human Condition | 3 credits
NURS 490 | Leadership III: Leadership & Management Capstone | 6 credits ‡
‡ Indicates course includes both didactic and clinical components.
Outcomes
Program Outcomes:
PO1: Provide professional nursing care informed by a deep and broad exposure to the liberal arts, sound critical thought, and a synthesis of ethical, legal, and moral standards.
PO2: Exhibit a person-centered approach to managing care that is balanced with attention to the needs of all, with compassion for those who are underserved, a commitment to justice and mercy, and respect for difference that flows from a grounded self-awareness.
PO3: Demonstrate sound self-management that enables perseverance, adaptability, successful functioning in the midst of ambiguity and paradox, and the ability to address priorities appropriately.
PO4: Communicate effectively with diverse patients, families, healthcare providers, and community members.
PO5: Work both independently and collaboratively in interdisciplinary teams to provide effective patient-centered care.
PO6: Understand and apply current evidence to inform population-based care in nursing practice and healthcare leadership roles.
PO7: Incorporate health promotion and disease and injury prevention, based on current evidence, into nursing practice with individuals, families, groups, communities, and populations.
PO8: Participate in planning, implementing, and evaluating healthcare technology to facilitate safe, effective, ethical, and cost-effective patient care.
PO9: Utilize leadership and communication skills to contribute to the ongoing improvement of nursing and healthcare practices and policies affecting patients and communities locally, nationally, and globally.
PO10: Continuously cultivate leadership skills and systemic thinking to ensure effective navigation of complex systems and rapidly changing regulatory environments.
PO11: Plan, implement, and evaluate person-centered, goal-directed nursing care based on a holistic assessment of diverse individuals, families, groups, communities, and populations across the lifespan, including compassionate end of life care.
Our Bachelor of Science in Nursing prepares you for a career in:
Hospice Care
Hospitals and Emergency Rooms
International Medical Mission Nursing
Military/V.A. Appointments
Nurse Education
RN Case Management
Public Health
School Health
Questions?
For any questions about the Nursing program or the application process, please email Kathleen Finch at nursing@warnerpacific.edu.