Special graduation ceremony for Knight's Track & Field Team
May 13, 2014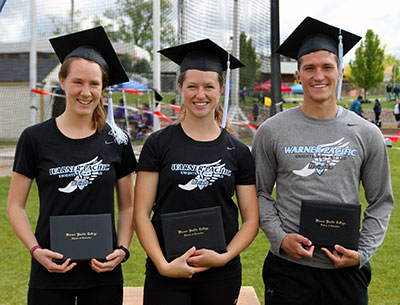 The Cascade Collegiate Conference Track & Field Championships were hosted in Idaho over the same weekend as Warner Pacific's graduation ceremony (May 10).
Three seniors opted to represent Warner Pacific in Idaho and not attend their own graduation back in Portland.
Competing athletes from other colleges were also foregoing their commencement ceremony to attend the track and field events.
The CCC hosted a special graduation ceremony for the seniors. Warner Pacific was able to send caps, tassels, and diploma covers to the venue in Idaho. On Saturday, May 10, while their classmates were in full cap and gown walking the across the stage to receive their diplomas, athletes Ka'imi Scott, Christi Avery, and Jessica Kepfer celebrated their graduation at the CCC Track & Field Championships.

How did the Warner Pacific Track & Field Team do at the CCC Championship? Our men climbed to seventh place and the women finished in seventh place as well. "It was a good championship meet for us and I'm proud of the effort of our athletes," said coach David Kilian. "As with any championship meet, we had some marks that didn't meet our expectations, but we also had several athletes that scored surprise points for our team. It is always a thrill to see a Knight on the podium and we had several this weekend. We will build on this and continue to add depth and talent to our program going forward."