The Japanese maples flanking A.F. Gray Hall's doorway have turned golden-red and the chill is settling in here at Warner Pacific. Despite the changing weather, the campus is still alive with activity as we anticipate the final month of the fall semester.

As I get ready for the short Thanksgiving pause, I can't help but connect the feast we're about to enjoy with what I've seen over the last several years at Warner Pacific. If you ask ten people what their favorite food at Thanksgiving is, you will likely get ten answers. It's not the sweet potato pie or the turkey leg or the stuffing itself that makes it a great meal. It's the combination of all the food at one table.

In the last year alone, we have seen more than 9%growth in undergraduate minority enrollment, further diversifying our already diverse student body. Every new student who joins us brings a new element to the Thanksgiving table, making the feast even better. I'm thankful that our school continues to better reflect the image of God in every corner of the world.
Join me in praying that God continues to grow our table here at Warner Pacific University. Have a wonderful Thanksgiving and go Knights!
HSI Institute prioritizes "servingness" in first event
As a designated Hispanic-Serving Institution (HSI), Warner Pacific recently hosted the first HSI Institute for Higher Education with a keynote from Dr. Gina Garcia, a leading HSI scholar and Associate Professor of Educational Foundations, Organizations, and Policy at the University of Pittsburgh. With leaders and educators from all across Oregon, Dr. Garcia spoke on the idea of "servingness" and what it actually means to serve Hispanic and other minority groups we enroll.

Although an HSI designation is an important and significant step for an institution, it is not enough to ensure Latinx and other BIPOC students can thrive and succeed in higher education.

As the first four year private university in Oregon to receive an HSI designation, and one of only 15 Christian HSIs in the country, the message of "servingness" carries deep significance for WPU. As Jesus says in Mark 10:45, "The Son of Man did not come to be served, but to serve, and to give his life as a ransom for many."

Dr. Garcia's challenge to us mirrors Jesus' call to serve. Students don't exist for the school, but we exist for the students. As a Christian University and an HSI, WPU is in a unique place to live out our mission to create mission driven leaders who change the world.

As we have grown in diversity at Warner Pacific University over the last ten years, we have experienced a deeper understanding of how God's image is lived in the world. Many of our students come into Warner Pacific speaking multiple languages, which is an incredible asset in a globalized society. Many come from vibrant and growing faith backgrounds, re-energizing the faith practice experienced on campus. Many bring different community and family values that enrich the way we interact with each other.

Serving our students means celebrating these assets and helping them understand their value in the world.
Along with Dr. Gina Garcia's insight, we also heard from hispanic leaders across Oregon. The panel included:

Carmen Castro: Executive Director, Hispanic Metropolitan Chamber
Michael Reyes: Education Specialist, Oregon Department of Education & Reynolds School Board Member
Ricki Ruiz: Oregon State Representative & Warner Pacific University Alum
Israel Pastrana: Department Chair Race, Indigenous Nations, and Gender Studies, Portland Community College
David Contreras-Machado: Associate Director of Education, Latino Network

Each panelist furthered the importance of "servingness" and laid out practical ways to help Latinx, BIPOC, and international students thrive in higher education.

Beyond the HSI Institute, Warner Pacific also hosted its first Latino Male Luncheon with MENTE, a Latinx alumni gathering at Portland Mercado, and sweat it out at the Nike Latino & Friends event hosted at the Nike World Headquarters in Beaverton, OR.

FOR DR. GARCIA, "SERVINGNESS" MEANS:


Examining education structures to anticipate new cultural backgrounds

Anticipating educational barriers in a way that helps minority students thrive


Making connections to community and business leaders to help with career readiness


Celebrating the treasures of language, culture, and worldview each student brings into the classroom

Taking the time to educate and be responsible towards financial aid
News & Updates
Future world changers at Fall Preview Day
Our November 11 Fall Preview Day was a huge success, offering prospective students and their families a jam-packed look at the college admissions process, campus life, financial aid, degree programs, and just what it means to be a Warner Knight. Attendees had an opportunity to meet with current students, faculty, and admissions counselors prepared to answer questions and talk about putting faith into action at Warner Pacific University.
Tabor Wind Ensemble Concert
The Tabor Wind Ensemble, conducted by WPU Adjunct Professor Gene Burton performed its Fall '22 concert on November 20 in the WPU McGuire Auditorium. The group of 60 talented musicians, comprised of WPU staff, faculty, and students; current and former band instructors; and members of the community performed a number of favorites including A Festival Prelude by Alfred Reed, Sousa's The Black Horse Troop, Rhosymedre by Ralph Vaughan Williams, Ticheli's, Cajun Folks Songs, Benediction by John Stevens, Early One Morning by LaPlante, and Holsinger's, Havendance. Now in its fourth year, the ensemble performs two concerts annually. The next concert is scheduled for Saturday, April 15, at 2 p.m. in McGuire Auditorium. Admission is free and all are welcome to attend.
Everyone Can Learn AI
WPU partnered with the Mark Cuban Foundation and Notified/Intrado over four Saturdays this fall to provide underserved high school students artificial intelligence (AI) concepts and skills. The 20+ local students participating in the free AI Bootcamp joined more than 500 students across the nation during the live simultaneous event. Students studied the ethical implications of AI and how this technology already impacts their lives, and they built their own AI applications using Microsoft's cloud-based computer tools. The Mark Cuban Foundation hopes to reach 1,000 students each year with camps like this. Warner was proud to play a role in this important mission!
WPU Sports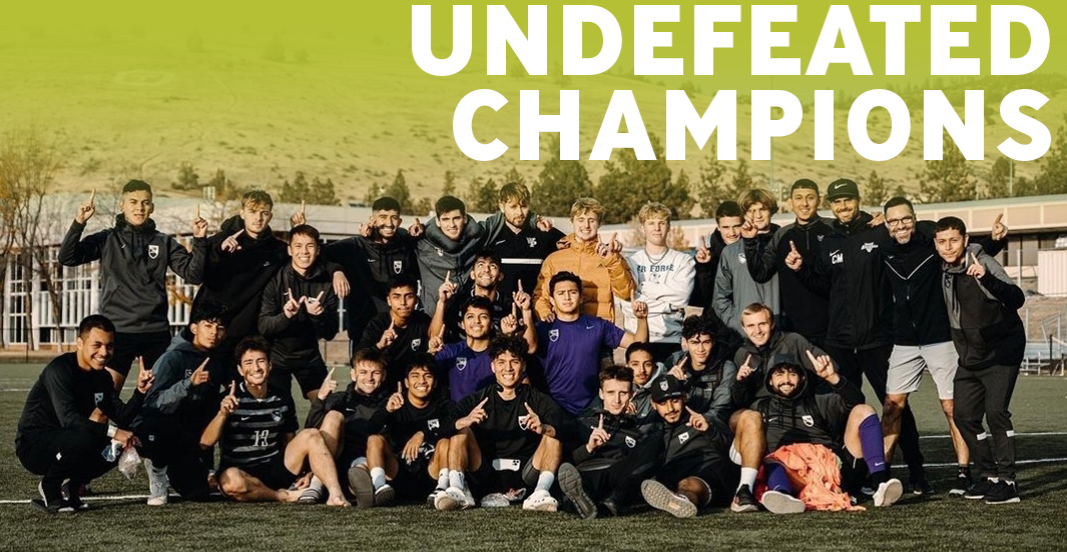 WPU Knights win Men's Soccer Championship
The men's soccer team had an historic season ending the year with the best record in school history and winning the 2022 conference championship. The team went on to compete in the NAIA National Tournament in Mobile Alabama winning their first game against the Milligan Buffalos 3-1. Next, the Knights took on the University of Mobile Rams giving up only one goal of the six shots on goal by the Rams with the game ending WPU 0 – UMobile 1. The 2022 season will always be remembered in the history of Warner Pacific men's soccer. With plenty of young talent in the program, and the leadership of the back-to-back-to-back CCC Coach of the Year, Troy Ready, the future looks bright for the Knights.
Knight Spotlight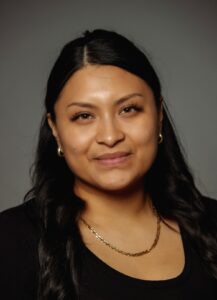 Gelsi Tuz
Gelsi Tuz is a junior Communication and Community Engagement major with a minor in Digital Media. A native Portlander from the Cully and Killingsworth neighborhood, Gelsi is the first from her family to attend college. "When I was looking at colleges, I was drawn to Warner Pacific's emphasis on diversity and community involvement, especially the fact that it was an HSI," Gelsi says. "Throughout my time here, I've been treated like a a real person the school cares about."
Gelsi is currently a Resident Assistant, Peer Mentor, Campus Activities Board marketing specialist, and serves as the secretary in the Latinx Club. After graduating, she plans on working in community organizing alongside other incredible people here in Portland.
Knights in the World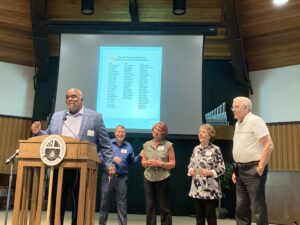 Founder's Day: A Celebration of WPU'S 85th Anniversary
On October 7, alumni representing WPU classes 1965 to 2022 returned to campus to celebrate the 85th anniversary of the founding of Warner Pacific. The morning began with an alumni chapel service led by pastor Steven Holt, WPU Class of 1991, followed by a special alumni brunch in McGuire Auditorium. Alumni celebrating their 50 year WPU class reunion were formally inducted to the WPU Golden Torch Society and those present received their official Golden Torch pin.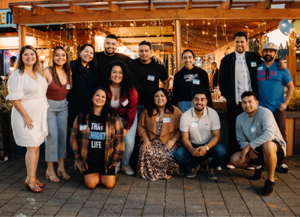 Alumni Gathering: Honoring National Hispanic Heritage Month
On September 22 WPU welcomed alumni, community members, students, and supporters to the Portland Mercado in celebration of National Hispanic Heritage Month. The event, spearheaded by WPU HSI Taskforce Chair Araceli Cruz, included great food, music, and WPU camaraderie. Alums attending the event represented WPU classes 2005 – 2022.
Featured Links
| | |
| --- | --- |
| #GoKnights Sports! | Watch the Latest Knights Talk with Pastor Zo |
Interested in Supporting Warner Pacific University?