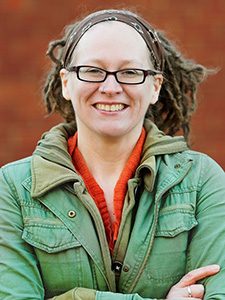 Associate Professor of Theology, Ethics and Church History, Chair of Religion and Christian Ministries Department
Email CTrentaz@warnerpacific.edu
Phone 503.517.1045
Education: 
Ph.D. in Theology, Ethics, and the Human Sciences from Chicago Theological Seminary in Chicago, IL. 2010
M.T.S. with professional distinction in Theological Studies from Anderson School of Theology in Anderson, IN. 2004
B.A. in Religious Studies with majors in Bible/Religion and Christian Ministries and a minor in Philosophy from Anderson University in Anderson, IN. 2001
Background:
Cassie is an associate professor at Warner Pacific College in Portland, OR, where she lives with her artist husband and their two preschool aged children and where she teaches within and across the areas of theology, ethics, church history, and religions of the world. Author of Theology in the Age of Global AIDS & HIV: Complicity and Possibility (Palgrave Macmillan, 2012), Trentaz is a teacher-activist-scholar and a partner-parent-neighbor nurturing connections across lines that often divide in the academy, religion, and society and cultivating porous spaces between the classroom and neighborhood. Issues of concern and possibility she is currently engaging are: religious diversity and interfaith community and cooperation, welcoming our "newest neighbors" of refugee and immigrant communities, and strategizing de-escalation amidst postures of violence.
Professional Affiliations:
Interfaith Youth Core. Institutional Partner. 2014-present
Interfaith Council of Greater Portland. Member. 2011-present
Wesleyan Theological Society. Member: 2010-present
American Academy of Religion. Member: 2006-present
Church of God (Anderson, IN) Ministerial General Assembly. Member: 2003-present
Publications & Papers:
Publications:
"How Parenting Has Changed the Way I Teach (and Sometimes Vice Versa)," "Reflections from a Bread Winner and Milk Producer: Story and Strategy," "Baby at AAR? When Family and the Academy Converge," and "2 Minute Reflections on Work/Home (Im)Balance" (single-authored blog posts) for the American Academy of Religion's Committee on the Status of Women in the Profession's blog pertaining to the theme of work/life balance. Three are in the queue to publish in late July and August 2015 in Guide for the Guild (http://rsn.aarweb.org/guide-for-the-guild). The fourth is still awaiting a publication date.
" 'In the City, For the City': Re-Membering Roots and Discovering What it Means to be Our Full Selves and Good Neighbors in Southeast Portland" (single-authored chapter) in Holy Imagination: Thinking about Social Holiness, edited by Nathan Crawford, Jonathan Dodrill, and David Wilson. Lexington, KY: Emeth Press, January 2015.
" 'They Will Know Us by Our Love': 'Good News' in a Postmodern, Postcolonial, Post-Christian Context" (single-authored chapter) in A Faithful Witness: Essays Honoring David Sebastian's Heart and Mind for the Church for the occasion of Dean Sebastian's retirement from the Anderson School of Theology, Anderson, IN, June 2014.
Theology in the Age of Global AIDS & HIV: Complicity and Possibility (single-authored full-length book). New York, NY: Palgrave Macmillan, November 2012.
"Making Sense of Feminist Theologies Today" (peer reviewed journal article co-authored with Laurel C. Schneider). Blackwell Publishers in the Religion Compass Journal, 2008.
Sections on "Grace" and "Household Economics" in The Journey (college-aged adult small group curriculum). Anderson, IN: Warner Press, 2005-2007.
"Spotlight on Leadership" (regular column) in Church of God newsletter. Anderson, IN: Church of God Ministries, 2004-2007.
Called-Out (bi-monthly newsletter). Anderson, IN: Church of God Ministries: 2002-2007.

Papers and Presentations:
"Cultivating and Sustaining a Damn: Hope-mongering and Choosing What to Learn, What Not to Learn, and How to Go About It in the Grit of a 21st century Urban, Diverse, Liberal Arts Undergraduate Classroom," accepted to be delivered for the Liberation Theologies Group at the American Academy of Religion annual meeting, Atlanta, GA, November 2015.
Collaborative presentation on "The Value of Interfaith Work in/for Our Christ-centered Institution," delivered for the Board of Trustees at Warner Pacific College at the invitation of WPC's President, Portland, OR, October 2014.
Panel Participant in the conversation sponsored by the Religion and Popular Culture Group around the theme: Discussing the "Nones": What They Say about the Category of Religion and American Society at the American Academy of Religion annual meeting, Baltimore, MD, November 2013.
Public presentation on "Social Holiness" as it intersects with theo-ethical Wesleyan roots and how the church engages the needs and concerns of our neighbors here and now, delivered at the Summer Celebration for the Association of the Churches of God in Oregon and Southwest Washington, Portland, OR, July 2013.
Participant in Living Humanism: Material Culture and the Remaking of Religion, a public symposium wherein I introduced the questions and work of the youth culture research project exploring what young people in Portland find meaningful/sacred in an age of post-religion and in the geo-cultural region of the "Nones" at Lewis & Clark College, Portland, OR, February 2012.
"Complicating 'Risk': 'Risk Environments,' Religion, and HIV & AIDS," delivered for the Ethics Section at the American Academy of Religion annual meeting, Atlanta, GA, October 2010.
" 'A Threat To Justice Everywhere': A Look at Personhood and the Sacred/Beloved Communities of Dietrich Bonhoeffer and Martin Luther King, Jr. in the Age of Global HIV & AIDS," delivered at the American Academy of Religion annual meeting, Chicago, IL, November 2008.