Proudly Presenting Ann-Erica Whitemarsh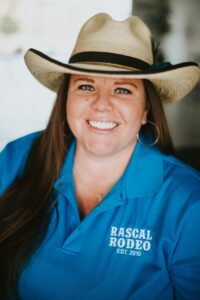 Growing up in Pasco, Washington, Ann-Erica Whitemarsh watched her father organize the first Special Olympics track meet in the community, which eventually led to hosting Special Olympics events throughout the Tri-Cities. Seeing his passion and dedication, Ann-Erica knew that she wanted to give back in the same way and in 2001, she had her first opportunity.
Created as a senior project, Rascal Rodeo began as the Tri-Cities first "exceptional rodeo", empowering people with special needs to explore their inner cowboys and cowgirls. Ann-Erica loved the experience but was focused on attending college and preparing for her adult life, so it seemed that Rascal Rodeo would remain a fond memory.
Ann-Erica attended Warner Pacific with track and volleyball scholarships. Some of her favorite experiences were out on the volleyball court surrounded by a gym full of loud and rowdy fans. Through volleyball she also connected with Kristen Smith who was the athletic trainer at that time. The two women became friends and remain so to this day with Kristen coming out to volunteer at Rascal Rodeo.
After Graduating Warner Pacific
After graduating from Warner Pacific, Ann-Erica got a job at Pacific Northwest National Lab and life seemed to be going as planned but she felt that something was missing. In 2011, with the nation facing a recession, Ann-Erica was laid off and came to the realization that the cubicle life was not for her. The dream that had been persistently tugging at her heart and mind could wait no more.
Over the next three years, Ann-Erica began to build Rascal Rodeo. With no job and no car, she babysat and cleaned homes and office buildings to make ends meet while working to make Rascal Rodeo a reality.
What started as four rodeos in Oregon and Washington has now grown into 16 rodeos a year throughout the Pacific Northwest, reaching hundreds of families. Ann-Erica is also exploring bringing Rascal Rodeo to communities in California, Texas, Illinois, Florida, Canada, and everywhere in between. What was once her side project has now become Ann-Erica's career and passion.
In 2013, Rascal Rodeo won a new Toyota truck as part of the Cars for Good contest. The non-profit was featured in the Mutual of Omaha's "Aha Moment" national television campaign in 2015 and named the 2018 Community Event of the Year by Tri-City Herald. Ann-Erica was named a Top 10 Young Women to Watch World Wide by Story Exchange in 2014; was a Tri-City Area Journal of Business 2018 Young Professional, and has been nominated as an American Red Cross Real Hero.
Warner Pacific University is proud to recognize Ann-Erica Whitemarsh as a 2019 Distinguished Alumni Award Winner!