Proudly Presenting Sherani Hill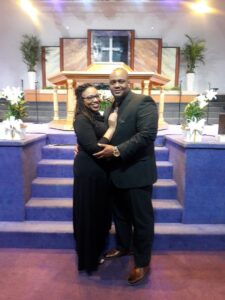 A native Oregonian and the youngest of four children, Sherani Hill graduated from Jefferson High School and studied at the University of Portland, where she earned a Bachelor of Arts in Social Work.
Sherani began her career as a residential youth counselor at the Christie School providing behavioral and mental health support. She then took a position as an adult mental health case manager with Cascadia Behavioral Healthcare, where she was the co-partner of a women's empowerment group that met weekly to help women secure resources to navigate back to community engagement.­
Recognizing the importance of empowering the next generation, Sherani accepted a position with Self-Enhancement, Inc., working with under-served and African American youth in the Portland Public School district. Managing a caseload of 45 students, Sherani observed both the school and home environments, working closely with families and school administrators to help students succeed.
In late 2012, Sherani and her husband made the decision that she would leave her job at SEI to care for their growing two-year old daughter. During this break from her career, Sherani was able to further her education at Warner Pacific University, enrolling in the Master of Science in Management and Organizational Leadership program.
Sherani's Warner Pacific Experience
Sherani appreciates that ways in which adding spiritual and theological insight into her assignments helped open her eyes to the calling that God had placed on her life. She remembers fondly the encouragement of her cohort and the Warner Pacific staff.  While working on her thesis, Sherani recalls Dr. Ulf Spears, her academic advisor and instructor, regularly providing both academic and spiritual guidance.
After attending class post-surgery with a pillow and water bottle, Sherani appreciated the care and compassion her cohort showed to her. Learning in a cohort was one of the things Sherani enjoyed most during her time at Warner Pacific. She made lasting friendships and discovered that learning how to effectively work with others is a skill that will always be useful, no matter your career.
In the final stretch of her master's program, Sherani received an unexpected phone call from Multnomah County, inviting her to an interview for a case manager position in the intellectual and developmental disabilities department. In the five years since accepting that position, Sherani has been promoted twice and now serves as a program supervisor. In this role, she has founded processes for managing Medicaid support for children, streamlined access to funded support services, and served as the liaison between county case managers and the state.
Sherani's professional success is guided by her profound faith and sense of calling. She and her husband, Israel, were ordained as youth pastors by the late Rev. W.G. Hardy Jr. at Highland Christian Center, where she has been a member for over 15 years. Whether in her work or in her ministry, Sherani has a growing passion to see young people mature in their relationship with God, and truly grasp what it means to live their pastor's legacy of becoming world changers. Warner Pacific University is proud to recognize Sherani Hill as a 2019 Distinguished Alumni Award winner!