Proudly Presenting Joel Tallman '84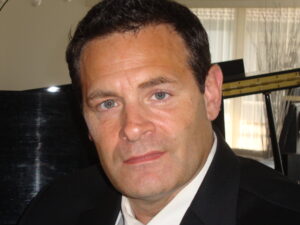 CEO/President of MÜV Brands
The legacy of Warner Pacific University has deep roots in the Tallman family. Joel Tallman's father and mother, Burns and Pauline Tallman, attended Warner Pacific. His father served on the University's Board of Trustees for over 20 years. As a student, Joel met his wife, Janine (Fall) Tallman, at Warner Pacific, starting a legacy of their own that includes five children and six grandchildren.
A 38-year fitness industry veteran, Joel previously served in executive roles for Gold's Gym International & Bally Total Fitness. A frequent industry speaker and corporate trainer, Joel has consulted at hundreds of clubs around the globe. He is a thought leader in the fitness industry, regularly appearing in magazine articles and podcast interviews. In the midst of his professional success, Joel continues to have a heart for service, sitting on numerous advisory boards for companies throughout the fitness sector.
His deep faith is witnessed throughout his work and beyond. Joel has attended the Edmonds Church of God for his entire life. For the last three decades, he has been a licensed minister through the Pacific Northwest Association of the Church of God in Washington, serving the congregation through Music and Worship.
Joel Tallman is beginning his 5th term on the WPU Board of Trustees. One highlight of his time as a trustee was chairing the President's Council on Inter-Collegiate Athletics, which led to the re-establishment of Inter-Collegiate athletics at Warner Pacific.
Joel is the founder and president of MÜV Brands, a leading edge, multi-concept fitness products franchisor and operator. In this role, Joel drives strategic planning, global development, and key growth initiatives under the flagship MÜV Fitness and MÜV Training brands.
MÜV Brands was the major donor of the University's current fitness facilities and is committed to growing opportunities for Warner Pacific students, athletes, faculty, and staff in the area of health and fitness. MÜV Brands ranks #28 on the Club Industry's Top 100. MÜV Fitness recently opened its third Portland area location, just minutes from the Warner Pacific University campus.
Warner Pacific University is proud to recognize Joel W. Tallman as a 2019 Distinguished Alumni Award winner!