Proudly Presenting Professor Reverend Watson Omulokoli, PhD.
B.Th. in Biblical Studies, and a B.A. in Theology
1964 Graduate
Chancellor of African International University (Kenya, Africa)
Nominated by: Buz and Billie Boberg and Eleanor Newcomb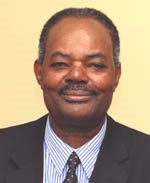 Dr. Omulokoli worked with Intervarsity Christian Fellowship as one of the first African staff members in the U.S. helping establish student fellowship groups mostly in the Midwest. In the 1970s he returned to Kenya and worked with Living Bibles International (dedicated to producing modern language translations of the New Testament in around 100 languages worldwide). In the late 1980s he begah teaching theology and church history at Kenyatta University and during that time also served as the Chaplain of Kenyatta University Inter-denominational Chapel, the patron of the Students Christian Fellowship and a mentor to hundreds if not thousands of students who have gone on to serve as pastors and leaders of various ministries in Kenya and elsewhere. Through the 1990s Dr. Omulokoli was the patron of Bible Translation and Literacy (an affiliate of Wycliffe International) and lectured at other Christian colleges and universities in Kenya and Ghana. In 2006-2008, he was a member of the Kenya Government "Taskforce for the Development of the National Strategy for University Education in Kenya". He serves as an Associate Professor of Kenyatta University, in Nairobi, where he teaches undergraduate and post-graduate students, and supervises and examines Masters and Doctoral level theses and also serves as an adjunct Professor with Akrofi-Christaller Institute of Theology, Mission, and Culture, in Akropong-Akuapem, Ghana. Dr. Omulokoli serves on the Boards of several Christian institutions, in such roles as: Chairman of the Trustee Board of the African Institute for Contemporary Mission and Research (AICMAR), Member of the Council of Governors of Pan Africa Christian University (PACU), Member of the Board of Governors of the Africa Evangelistic Enterprise (AEE), as well as on the Advisory Council of the African Christian Biography Project. Served as a Yale University Visiting Fellow (2010-2011 Academic Year), New Haven, Connecticut, as well as a Research Scholar at the Overseas Ministries Study Center (OMSC). In 2012, he was appointed the chancellor of African International University, which used to be Nairobi Evangelical Graduate School of Theology as Kenya transitioned from having the President of the country as the honorary Chancellor of all universities and colleges.