Proudly Presenting Sonya Fischer
Clackamas County Commissioner, Position 5
Attorney/Owner, Fischer Family Law, PC
1988 WPU Graduate
Sonya joined the Clackamas County Commission in 2017 after a long history of community involvement as a local attorney,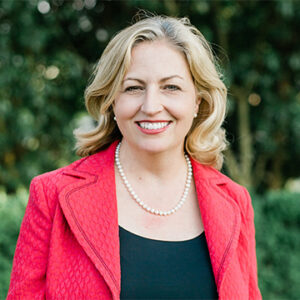 business owner, a legislative director for the Oregon Department of Human Services and as an advocate for people with disabilities. She graduated from Centennial High School and earned degrees from Warner Pacific College, Portland State University and Lewis & Clark Law School.
When Sonya attended Warner Pacific from 1985 to 1988, she was a young mother caring for a daughter with significant challenges who faced a life of permanently delayed cognitive development. The Warner Pacific community became a key source of support and encouragement for Sonya. She majored in sociology and social work and started a support group for other parents of children with disabilities. That led to an opportunity to work as a case manager with Multnomah County. She went on to complete a master's degree in Public Administration from Portland State University in 1993.
Sonya gained valuable political experience at the State Capitol working as legislative assistant in the 1990s. With the help of other mothers, Sonya brought concerns before the Department of Human Services about the lack of state support available for families and children with severe disabilities. Eventually, the State Legislature passed landmark reform to provide for in-home care for these children and their families. This work inspired Sonya to complete a law degree at Lewis and Clark Law School in Portland in 2002.
Sonya owns the law firm Fischer Family Law, PC. in Lake Oswego and specializes in family, juvenile, special education, and guardianship law. Sonya previously served as the President of the Oregon Trial Lawyers Association and has been recognized for the 4th consecutive year as a Super Lawyer. As an elected official, Sonya was recently appointed as the Chair of Human Services and Education Steering Committee for the National Association of Counties where she will be advocating Nationally on all matters pertaining to children's issues, foster care, public assistance and income support, services to senior citizens and individuals with disabilities, immigration policy, social services, and elementary, secondary and post-secondary education. She is married to Kirk Mouser and has three grown children and three grandchildren.