Proudly Presenting Ethel C. Willard – "I am Committed and I am Commissioned"
Retired Chaplain in Residence – Anderson University School of Theology
1958 WPU Graduate
Ethel Willard came to Pacific Bible College from West Plains, Missouri. She learned about the College while attending Missouri Youth Camp in the summer of 1952. In all, five students from West Plains, including Bob Thompson, Paul Findley, Robert Bixler, Leaota (Baughman) Hardt, and Ethel, enrolled at PBC in January 1953. It was a milestone in Ethel's journey in ministry.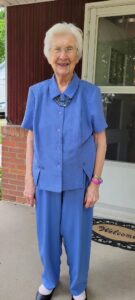 While at PBC, Ethel studied Music and Christian Education. She was involved with student government, serving as sophomore class president, junior class vice-president, and student council secretary. She was well respected on campus and was a true friend to many students. While in school, Ethel worked as a bookkeeper at the Bank of California. A year after graduating, she returned to PBC, now named Warner Pacific College, where she worked as a bookkeeper and accountant until 1969.
Ethel left Warner to begin her 29-year career with Church of God Ministries. Her first assignment was as a missionary in Hong Kong, serving in the financial department of the Junk Bay Medical Relief Council, which operated a hospital, children's hostel, and a clinic. During her 12 years in Hong Kong, Ethel served as a secretary, business manager, treasurer, and assistant administrator. She also volunteered as the choir director at Emmanuel English Church, in Hong Kong, for eleven years. In 1982, Ethel was back in the United States, serving as a bookkeeper at Church of God Ministries headquarters in Anderson, Indiana. From 1987 to 1997 she worked as the assistant treasurer, handling missionary remittances, insurance, and payroll, among other duties and served as Chaplain in Residence at Anderson University School of Theology from 1998-2018 while volunteering 1-2 days per week at the Park Place Food Pantry.
Friends describe Ethel as one of the most selfless people they know. For a life dedicated to supporting the work of the church, Warner Pacific is pleased to include Ethel in the circle of distinguished alumni.