Proudly Presenting Randall Hall
Saxophonist, Composer, and Improvisor
1991 WPU Graduate
Randall Hall, Class of 1991, is an award-winning musician, educator, and clinician who is considered one of the leading interpreters of contemporary music for saxophone. Randy's musical styles range from classical to cutting-edge experimental music.  He has performed in concert halls in North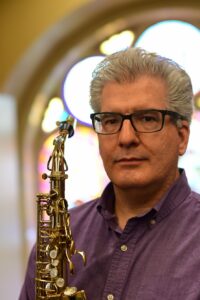 America, Europe, and Asia, and has worked with some of the most innovative composers for the saxophone working today.
Since 2005, Randy has served as a professor of music at Augustana College, in Rock Island, Ill, where he teaches saxophone, improvisation, electronic music, and music history, among other subjects. He has recorded several solo CDs and recorded as a member of the duo "Pendulum." He is also the founder and artistic director of the Shockingly Modern Saxophone Festival.
Randy graduated magna cum laude from Warner Pacific in 1991 with a Bachelor of Science degree in music education and music studies. During his time at the college, he was active in the wind ensemble and jazz band, and also served as a counselor at the college's summer music camp. Randall said the Warner Pacific music department sparked a curiosity about music in all of its aspects.
Following Warner Pacific, Randy earned a Master of Music in Saxophone Performance from the New England Conservatory of Music, in Boston, in 1994. He then received a Fulbright Scholarship to study classical saxophone at a conservatory in Paris, France, where he developed a more avant-garde playing technique.
After leaving France, Randy earned a Doctor of Musical Arts in Saxophone Performance and Literature from the Eastman School of Music, in Rochester, NY, in 2002. Randy has given lectures and master-classes on aesthetic and technical issues of new music at institutions like Harvard University, Cornell University, the Eastman School of Music, the New England Conservatory, the Luxembourg Conservatory, and the World Saxophone Congress.
Randy's many awards and honors include the Frank Huntington Beebe Grant, the Encore Grant from the American Composers Forum, the Presser Music Award, an Artist Residency at the Studio for Electro-Instrumental Music (STEIM) in Amsterdam, and he is an endorsing artist for Selmer Paris Saxophones. Randy has few peers in a niche that demands both technical mastery and remarkable inventiveness. His work is an inspiration to students and musicians, alike.