Catch Up with Us at Alumni Events
Whether you just graduated or have been away from campus for decades, WPU looks forward to welcoming you back to the campus. Our alumni are treasured members of the Warner Pacific family, and we look forward to hosting a variety of events so you can mix, mingle, and share your news and knowledge.

FOUNDER'S DAY

A Celebration of WPU'S 85th Anniversary

On October 7 alumni representing WPU classes 1965 to 2022 returned to campus to celebrate the 85th anniversary of the founding of Warner Pacific. The morning began with an alumni chapel service led by pastor Steven Holt, WPU Class of 1991, followed by a special alumni brunch in McGuire Auditorium. Alumni celebrating their 50 year WPU class reunion were formally inducted to the WPU Golden Torch Society and those present received their official Golden Torch pin.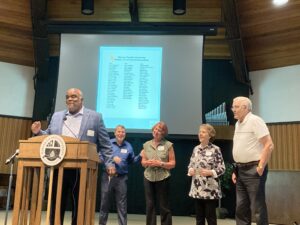 WPU Board Chair Michael Moreland honors Golden Torch Inductees
(l-r) Glen Hossler, Claudia Hemenway, Karen Callison, and Norman Jones.

Warner Alums produced a video of memories and stories – Check It Out!
ALL THAT JAZZ: A GALA CELEBRATION
It was a stellar celebration of all that is great about Warner Pacific!