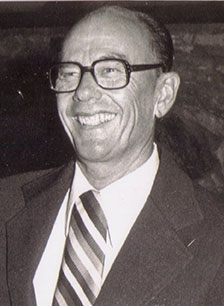 Warner Pacific College is honored to recognize Rev. Nick Van der Veur '52 with the 2015 Distinguished Alumni: Ministry Award.
Nick graduated from the College in 1952 and spent his life in ministry with the Church of God.
While at the College, Nick, along with four fellow students, had a vision of starting a church.  They each raised $500, and established what is now the Gresham Church of God.
After graduation, Nick held a revival in Turlock, Cal., and a group who heard him preach were so inspired by his message they invited him to start a church in North Modesto, Cal.  He remained there for three years, and this church remains as his most successful church plant.
After Modesto, Nick was asked to serve at Lahaina Church with the Home Missions Board in Hawaii.  After serving in Hawaii for two years, Nick pastored at a Nevada City church. While there, he worked closely with the committee that developed Diamond Arrow Church of God camp in Northern California.
Nick and his family then moved to Oregon to pastor the Woodburn Church of God.  Nick served in Woodburn for three years before moving to Canada.  In Canada Nick provided leadership for the growth of the Glamorgan Congregation in Calgary, Alberta.
Finally returning to the United States, Nick retired but continued to host revivals in Northern California.  He was a sought after speaker for youth conventions and marriage retreats.
One of Nick's favorite memories of his college days was during a revival he and a number of other students attended in Madras, Ore.  Each of them took turns preaching, and they stayed in a house with twelve children.  The house had no running water, and chickens ran wild in the kitchen.  They bathed in the Crooked River, but were filthy by the time they climbed the hill from the river back to the house.  A seven year old girl attended the revival each night, and on the last night she walked up to Nick and placed something in his hand.  He looked down to find a nickle.  Nick asked the girl what it was for, and she said "Well… for preaching."  That may have been the first time he had been paid to preach.  That little girl is now the wife of the pastor of the Clarkston Church of God.
While at Pacific Bible College, Milo Chapman mentored Nick. Fishing and pastoring together, they later developed a friendship that has lasted their lifetime.  Nick is deeply proud of the wonderful friends he has kept over the decades of his life.
Nick had three children, and is the happy grandfather to seventeen grandchildren.  When asked about his legacy, Nick says it is seen in the lives he pastored.  He taught people to love each other, and how to love the unloved.