Jim and Terri Teague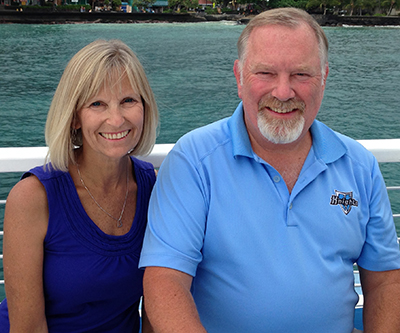 Warner Pacific College is honored to recognize Jim and Terri Teague with the 2015 Distinguished Alumni Award for their Legacy with the College. What began with their time on campus as students, through raising graduates of the College, Jim and Terri are part of the fabric of Warner Pacific College. They have been invaluable partners by serving on the Board of Trustees, the President's Advisory Council, and chairing the selection team to choose Dr. Cook, Warner Pacific College's seventh, and first female, president.
Jim and Terri met as children in Kennewick, Washington. After graduating from high school, Terri spent a year in Brazil with Rotary International. Jim attended Warner Pacific College, where Terri joined him after her experience abroad. While they were students at Warner Pacific, Jim and Terri were very active in the College community, with Jim serving as the Student Body President. Jim and Terri appreciate the commitment and sacrifices of the Warner Pacific faculty, staff, and administrators, in preparing them for a life of service. Jim received an education that prepared him to succeed in law school and ultimately flourish in the competitive field of law. Terri's education prepared her to support her family with wisdom and grace, as well as volunteer her time and talents with organizations close to her heart.
After attending Warner Pacific College, Terri worked for Horizon and United Airlines. When the time came for their family to grow, Terri chose to set aside her professional career and support her family on a full time basis. When asked about Terri as a wife and mother, their daughter quickly stated that Terri is a "prayer warrior." She is a humble servant, who is eager to host, and has a depth of kindness.
Upon graduation in 1975, Jim began law school at Lewis and Clark College of Law, where he received his Juris Doctorate. Jim later passed the Washington State Bar exam, and was sworn in as a member of the Washington State Bar Association. Jim received his Chartered Life Underwriter designation through The American College, while also obtaining his Licensed Securities Representative designation. After serving in the insurance industry for 32 years, Jim has partnered with their son to start ProRisk, a general insurance and risk advisory company specializing in business and individual benefit and legacy planning.
Both Jim and Terri have a heart for Warner Pacific College and their legacy to the College is shown through their faithful service, generosity, and prayer. You can also find them cheering courtside at most Knights basketball games. Jim and Terri have raised two Warner Pacific College graduates, who also married alumni. Only time will tell if their grandchildren will someday be counted among the proud Warner Pacific student community.
Jim and Terri Teague have partnered with Warner Pacific College to be an ongoing influence, ultimately advancing the call of Christ for future generations.