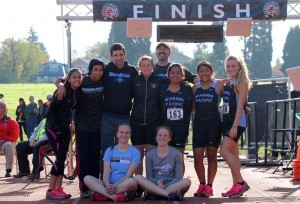 Knights fans can now hear all the action on the Knights Sports Network. Hear games on our free stream or on the radio in Portland on 1330AM!
Wrestling: This fall Warner Pacific's new wrestling team took to the mats. We welcomed 28 men and 14 women wrestlers to the Knight's roster.
Volleyball: Though the Knights were much more competitive this season overall, the team managed just a 5-18 record. Janessa White was No. 3 in the Cascade Conference in kills per set and named 1st Team All-CCC. Marchelle Bostic set a new WPC record with 2095 in assists. Bostic and Kendra Henry were named Academic All-CCC.
Cross Country: It was a rebuilding year for Warner Pacific Cross Country. The Knight men placed 8th at the CCC Championships, while the women placed 9th. A bright spot was freshman Ahmed Ibrahim, who placed 10th in the men's race and qualified for the NAIA National Championship. Chad Smurthwaite, Hannah Mierow, and Briana Cowin were named Academic All-CCC.
Women's Soccer: The Knight women's soccer team took a major step forward, qualifying for the playoffs for the first time since 2007 and winning a post-season game for the first time in program history. Coach Holly Popenuk was named CCC Co-Coach of the Year after leading the team to a 8-10-2 record. Ashley Valencia was voted 1st Team All-CCC, while Elle' Nelson and Crystal Foster were named 2nd Team All-CCC. Valencia, Nelson, and Cathy Lara earned Academic All-CCC honors.
Men's Soccer: The WPC men finished with a 7-8-3 record, and 5th place in the CCC – one spot away from the playoffs. Mario Guizar scored 14 goals on the way to CCC Newcomer of the Year honors and was voted 1st Team All-CCC. Geovanny Vazquez was named 2nd Team All-CCC. Academic All-CCC honors went to Ruben Amezcua and Almir Celebic.
Stay up to date with all Knight's news by visiting wpcknights.com.