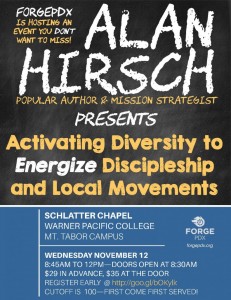 Warner Pacific College is proud to partner with ForgePDX in welcoming guest speaker Alan Hirsch to give his lecture, "Activating Diversity to Energize Discipleship and Local Movements" at 8:45 am in Schlatter Chapel on Wednesday, November 12.
Alan Hirsch is the founding director of Forge Mission Training Network. Currently he co-leads Future Travelers, an innovative learning program helping megachurches become missional movements. Known for his innovative approach to mission, Alan is considered to be a thought-leader and key mission strategist for churches across the Western world.
Forge PDX is an emerging, local expression of the wider Forge America Network, a network of missional pioneers, communities and churches who are seeking to join God in His mission in this world.
When: Wednesday, November 12, from 8:35 am – 12:00 pm (doors open at 8:30 am)
Where: Warner Pacific College's Schaltter Chapel
Admission: $20 in advance; $35 at the door
Admission to this event is FREE to all Warner Pacific students, faculty, and staff.  Please bring your Warner Pacific ID to gain entry into the event.