Exploring the Complexity of Hip-Hop Culture: Impact on Black Lives in Schools and Society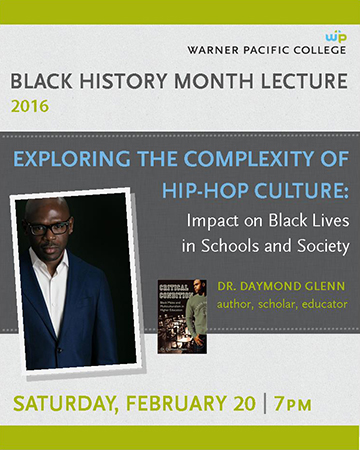 Dr. Daymond Glenn examines the complexity of hip-hop culture and its implications for understanding the experiences of Black males in schools and society.
Dr. Glenn is the Vice President for Community Life, Chief Diversity Officer, and Assistant Professor of Urban Studies at Warner Pacific College in Portland, Oregon. Additionally, he  is part of an editorial team of scholars for the national Journal for Hip-Hop Studies and is the author of Critical Condition: Black Males and Multiculturalism in Higher Education. In his book, Dr. Glenn discusses the challenges, complexities, and possibilities of Black males and multiculturalism in predominantly White institutions of higher education.
When: Saturday, February 20, at 7 pm
Where: Warner Pacific College, McGuire Auditorium, 2219 SE 68th Avenue, Portland
Cost: FREE and Open to the Public
More information: Office of Diversity at jwhitten@warnerpacific.edu or 503.517.1271