WPC Alum Rep. Vic Gilliam named "Statesman of the Year"
July 28, 2016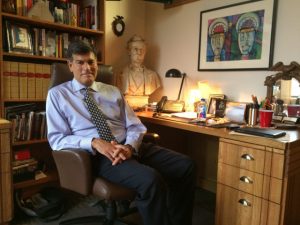 The Oregon Business Association (OBA) has announced their selection of Representative Vic Gilliam (R-Silverton) as their 2016 "Statesman of the Year." We are so proud of his accomplishments and know this is a very well deserved honor.
Rep. Gilliam, who recently was presented an Honorary Doctor of Laws degree by the College,  initially suspected his former colleague Senator Ryan Deckert (now OBA President), was "pulling his leg," but realized it was not April 1 [April Fool's Day] and released the following statement in response:
"With the paths we walk from education, politics, art or religion, the most important influence in our life is another person. Knowing personalities whose character, actions, and words that impact our thinking and learning, easily becomes worthy of our emulation.
"There are several Representatives and Senators from my decade in the Oregon Legislature that are worthy of emulation and two come quickly to mind from my favorite Session in 2012 when the House was tied 30-30. Co- Speakers Bruce Hanna (R-Roseburg) and Arnie Roblan (D-Coos Bay) demonstrated extraordinary statesmanship. Additionally, they offered me opportunities to practice their models of conviction, respect and compromise in policies affecting our State, as I served as Co-Chair of two pivotal House committees.
"I believe Oregon's greatest statesman ever is my former boss, Mark O. Hatfield. To be this year's OBA Statesman is not at the level of the Senator's life-long legacy, but this honor is humbling nonetheless.
"As a former staff member, being mentored by Mark Hatfield was not unique, due to his consistency mentoring staff and students over his career as a professor and political leader. But my experience was indelible.
"He cared about each person that crossed his path and was articulate about the character and values of those who mentored him as well. He especially emulated Jesus sharing his faith with compassion not judgment and as the Senator said: "Reaching out to people with compassion and love, bringing the Gospel alive.
"The Senator's example inspired me and I share these further thoughts from his auto-biography, 'Against the Grain': '…thank God, you cannot legislate the hearts or minds of any people.'
"I hold a deep respect for all great religious truths, and Christianity… is simply my way. Professionally, it helped me realize the aisle was no barrier in my work, that arbitrary labels between Republican and Democrat were just that – arbitrary. Labels are never important in a spiritual context – the heart is.
"My faith in Jesus was fortified by the Senator's example and as a result, prepared me for many life circumstances including the complex nature of politics and governing. His guidance especially assists me in developing fruitful relationships with other people that are in the Senator's words: 'more forgiving, loving, and inclusive.'
"My sincere thanks to Ryan Deckert and the Board of OBA for this honor."
Representative Vic Gilliam represents House District 18, which includes Silverton, Molalla, Hubbard, Aurora, and Mount Angel.