Warner Pacific Student Wins 1st Place in Video Contest
December 9, 2014
Copyright: a win-win for WPC student Sean Musaeus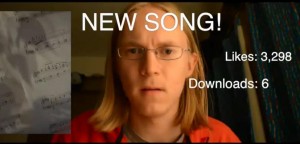 Copyright: the legal right to be the only one to reproduce, publish, or sell the contents and form of a literary, musical, or artistic work (Merriam-Webster)
When it comes to music copyrighting, most of us are confused about its importance or necessity – that is except for Sean Musaeus. This Warner Pacific sophomore entered an original video in the National Music Council and Music Publishers Association 2014 Copyright Awareness Scholarship contest and took first place.
Sean remembers that he "got really excited when I found out about the scholarship, which was during my senior year in high school. At the time I was researching copyright law and how weird it all seemed to be. I was interested in how the current media environment created by the Internet affected the dynamics of copyright."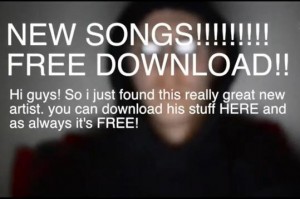 After posting some simple videos on YouTube in which Sean used license-free music, he became interested in creating more advanced short films. This got him pondering the ramifications and legalities of using copyrighted music.
Scratching the surface and then digging deeper into the complex world of copyright laws, policies, and procedures on Youtube only further peaked his interest. This lead him to websites and books on the subject and ultimately the Copyright Awareness Scholarship.
So inspired about copyright law, Sean crafted a "fairly traditional explainer video" clarifying why copyright was important. His first video entry was a quirky little hand-drawn graphics production with a voiced over narrative. It didn't win.
Through the research and creative process, Sean says, "I've come to understand how important copyright is in supporting the creative economy."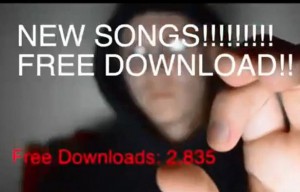 Undeterred, Sean changed his approach to illustrating why copyright was important, in three minutes or less. He'd get the point across through the narrative of a wordless "short film." Making the video—shooting it, composing and recording the soundtrack, and editing it took him less than two weeks. Settling on a concept for this video, however, took slightly longer; over a year.
With the June 1, 2014, deadline looming, it was Sean's third and final concept that was submitted. Why so diligent in showcasing this subject matter in a short video? Sean explains that the scholarship contest "combined two things I was interested in: filmmaking and copyright law."
In his final concept, like Yin and Yang, you see the two faces of music downloads. Sean artfully showcased the talent, dedication, and time taken by the artist to create something worthy for the audience to buy and download. He contrasted that with a dark and shady character easily pirating the music and offering free downloads, negatively impacting the artist's efforts. In the end, the video has a simple message – Don't cheat yourself. ©
His creative approach to explaining why copyright laws are an important protection for artists is this year's First Place winner. Sean also received a monetary scholarship award.
Sean has yet to declare a major but knows he will at least minor in music. He chose Warner Pacific because it is a Christian, liberal arts college close to home. Sean is a born and raised Portlander.
When asked what he thinks of his new found notoriety, Sean modestly replies: "I haven't really had any fame from the video so far… I always feel weird being the center of attention, so if anyone talks about it I usually try to downplay it and change the subject."
Congratulations Sean. Enjoy his winning video, which contains some original music by Sean. Don't worry, it's copyrighted!