Students Present Research at Murdock College Science Research Conference
November 9, 2015
At the recent Murdock College Science Research Conference (November 6-7) hosted in Vancouver, two Warner Pacific science students presented research posters. Science posters are a key component of communicating a snapshot of research and are intended to invite conversation about the work.
The Conference focuses on sharing and advancing new knowledge in the natural sciences that were created or discovered through collaborative faculty-student research at the eleven MCSRP funded colleges and universities in the Pacific Northwest.
Warner Pacific College was one of 31 schools in attendance. Both students presenting at this Conference assisted Chair of the Natural Sciences & Health Department, Dr. Elizabeth DuPriest, with research over the summer break.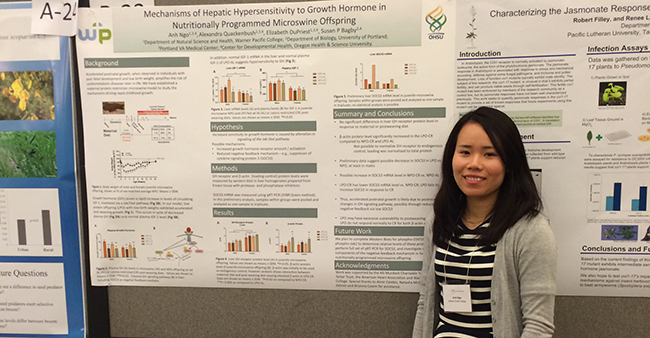 Anh Ngo, who will be graduating in December, presented a poster about Mechanisms of Hepatic Hypersensitivity to Growth Hormone in Nutritionally Programmed Microswine Offspring. Anh will also be presenting her research poster at the Sigma Xi Columbia-Willamette Chapter Student Poster Presentations session at Portland State University later in November.
Natasha McDougal's poster was about Adipose Tissue Transcription Factor Expression in Nutritionally-Programmed Offspring. Natasha is graduating in May 2016.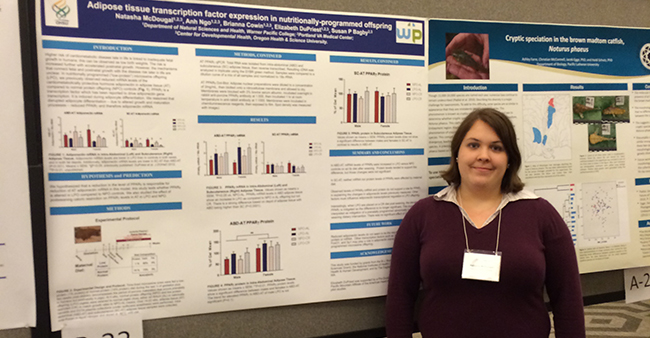 After graduation, Anh is proceeding to graduate school at Oregon Health Sciences University in their Biomedical Engineering Ph.D. program. Natasha is advancing to a doctoral level program in Naturopathic Medicine.