Students cut classes to volunteer in the community: Common Day of Service
September 17, 2015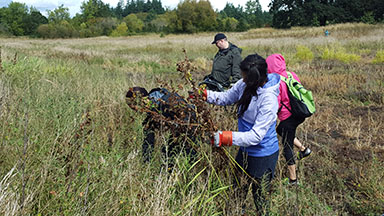 Thursday, September 17, was the 11th annual Common Day of Service at Warner Pacific when day classes are cancelled as the College focuses on serving our community.
The on-again off-again rain didn't dampen spirits as everyone lived into the College's motto: "Where faith and scholarship lead to service." Over 400 students, staff, and faculty members stepped out of the classroom to serve the Portland community as part of the College's 11th Annual Common Day of Service.
The work completed today (almost 2,000 combined hours of volunteerism) served more than 1,500 people, 20 local organizations from NE Portland to Oregon City to Tualatin, and provided an estimated economic impact of nearly $46,150.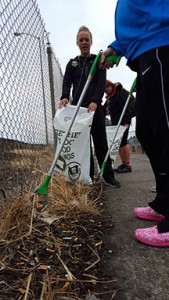 Common Day of Service at Warner Pacific began 11 years ago, when a student asked local elementary schools and organizations how Warner Pacific students could help support their efforts in the community. Since then, the event has been embraced by the entire College and is a welcome way to kick-off each new school year. This year, projects included:
Working with Habitat for Humanity and the Cully Neighborhood to transform an abandoned strip club into a community resource center by removing graffiti and garbage.*
Learning about nonnative and invasive species and then helping the Tualatin River National Wildlife Refuge remove cockaburrs, which can take over a natural area, making it difficult for the desired flora to propagate. Over 90 pounds removed!
Sorting donated clothing and harvesting vegetables in a community garden at NAYA PDX (Native American Youth and Family Center).
Setting up for a fundraising gala to support the Children's Center in Oregon City. The Center provides a safe place and support for abused children.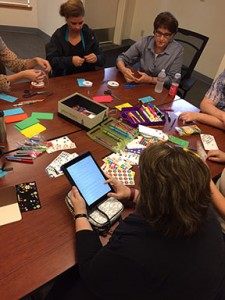 Assembling science learning kits for school children served through the AKA Science program at Impact NW.
Taking apart donated old or broken down bicycles to salvage usable parts and metal for recycling at Rosewood bikes.**
Working through SOLV to pick up garbage that accumulated alongside the I-205 walking/bike path making it cleaner and safer.
Sorting and cleaning donated books for the Book Bank. Volunteers even crafted handmade bookmarks with inspirational quotes for the young readers – 173 books were donated to the Children's Book Bank.
"Common Day of Service is an important day in the life our institution as we live into our motto. Today, students were out in the city serving our community," explains Dr. Andrea Cook, President of Warner Pacific College. "For us, service learning means volunteering off the campus and assisting in the community in places of poverty, places of oppression, and places where there is great need."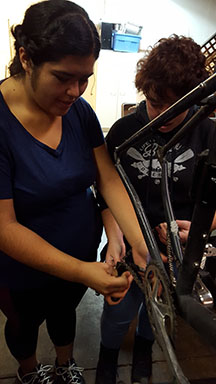 Warner Pacific students are asked to complete a minimum of 10 hours of service each semester. Over 34.1% of Oregonians volunteer annually, ranking the state's volunteerism 10th in the U.S. Education, religious, and social service organizations receive the most volunteer hours in Portland. View more photos on the College's Instagram feed (@wpcollege) and Facebook page.
*Taking back something for the neighborhood – Warner Pacific's "Boyz n Girlz in the Hood: Justice & Neighborhood Change in Portland" First-Year Learning Community (FYLC) partnered with Habitat for Humanity and Living Cully to help them with the transformation of property that housed undesirable businesses. During Common Day of Service, students painted, removed graffiti, landscaped, and eradicated inappropriate decals on some of the doors and windows.
The black-painted windows, dingy red carpet, and cracked checkerboard tiles that line the walls of this former strip club highlight the dark history of the Sugar Shack in NE Portland (Cully neighborhood). Even without the presence of its former clientele, the dilapidated bars, bathrooms covered in faux animal prints, and the multiple pictures of nude women littering the building still bear the marks of its seedy past.
The building used to house a variety of adult-themed businesses including numerous strip clubs and an adult video store. The maze of hallways that lead from one business to the next was easy to get lost in, winding through the property and taking students into cramped corridors that ended in dingy rooms papered with yellowed instructions to dancers. One door opened to a moldy hot tub while another lead to a rickety spiral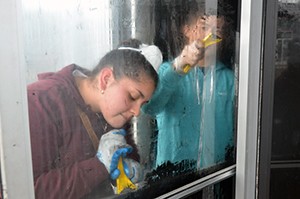 staircase and an old-fashioned safe. At every turn, they are confronted with an atmosphere of hopelessness and sadness.
For over a decade, residents of the Cully neighborhood had to deal with this string of adult businesses, located right across the street from a children's medical office, residential apartment buildings, and school bus stops. In addition to being a community eyesore, the Sugar Shack was also a hotbed of criminal activity, which is what ultimately closed the building, when its owners plead guilty to an IRS and prostitution conspiracy in a court case that spanned 5 years. The 25,991-square-foot building was then purchased by the Living Cully collation, which includes Habitat for Humanity Portland/Metro East, Hacienda CDC, and the Cully-based nonprofit Verde.
The work done by the FYLC helped the new owners start to create a positive space that benefits the neighborhood.
**Repairing bikes in Rosewood –  "My Common Day of Service experience was filled with learning all about gentrification and how this complex problem has severely affected many families and businesses. Gentrification in Portland is causing people to move to the city's outskirts where transportation options are more limited. Working at the bike shop in one of these neighborhoods was a great opportunity to help fix up an important mode of transportation for many people. Biking is a much less expensive option for commuting than driving a car, so providing people with more affordable modes of transportation, as Rosewood Initiative does, is something very rewarding. They are open to the public from 4-6 pm on Thursdays bike riders to use tools, spare parts, and to learn more about how to repair and maintain their bikes. I hope to have the opportunity to help out at the shop again, to provide as many people as possible with working transportation."  Kaylee D., Warner Pacific freshman