Spring 2016 Knights Athletic Roundup
May 24, 2016
SCHOLAR ATHLETES
Twelve Warner Pacific athletes are among a total of 276 Cascade Collegiate Conference student-athletes in the spring sports of men's and women's golf, men's and women's track and field, baseball, and softball have earned U.S. Bank Academic All-CCC honors for their performances in the classroom.
TRACK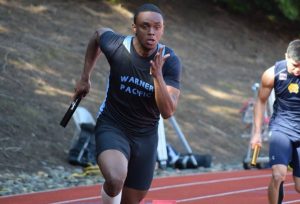 The Warner Pacific Track & Field team completed their season at the CCC Championships held on May 13-14.
The Knight men scored 17 points as a team finishing in a tie for 8th place. while the WP women put up 19 points and placed 9th.
The triple jump duo of Ben Nelson and Kenny Helmes were a highlight of the weekend for the Knights as Nelson (13.72 meters) and Helmes (12.93 meters) placed 3rd and 6th respectively. Nelson also scored points in the long jump, placing 7th (6.69 meters). Andre Jackson cleared 1.75 meters in the high jump, which placed him 7th overall. The WP men also put points on the board in the 4×100 relay (7th) and 4×400 relay (8th).
On the ladies' side, Jordan Hunter scored points in three events, placing 6th in the shotput (11.24 meters), 6th in the discus (34.98 meters), and 6th in the hammer throw (37.54 meters). Alina Munoz posted a career best effort of 1:07.68 in the 400m hurdles, allowing her to eke out a point with an 8th place finish. Becca Osborne had a season best run in the 10,000 meter event, placing 5th in a time of 41:14.87. The 4×100 relay (6th), and 4×400 relay (8th) also tallied points for the women's team.
For the season, one school record fell as Jordan Hunter set a new mark in the discus and qualified for the NAIA National Championship meet. The team overall had 21 new marks that moved individuals into the "elite eight" list of performances in WPC history.
GOLF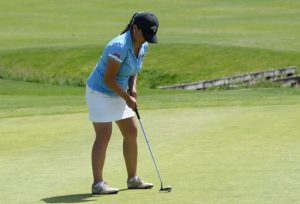 The Knights Golf teams wrapped up their season at the Cascade Collegiate Conference ("CCC") Championships held on April 18-19.
The Knight men had high hopes going into the event, but never quite found their best game as a group. The team posted a total score of 991 (330-336-325), placing 5th out of 6 teams competing. Jacob Berg had an excellent season for WPC, finishing 6th in the CCC for scoring average at 76.7, and he is now No. 4 on the Warner Pacific career scoring average list at 78.35.
The lady Knights entered a team of four players in an attempt to put forth a scoring group, but could muster only three golfers on the second day and thus did post a team score. Marissa Casanova was a steady performer all year and finished with the 7th best scoring average for a season at Warner Pacific (90.9).
Keep up with all the teams at wpcknights.com