Religion & Christian Ministry Spring Event (2017)
February 2, 2017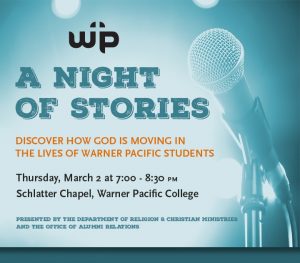 Discover how God is moving in and through the lives of our seniors in the Department of Religion & Christian Ministries.
Ministry isn't about the job you choose, it's about the life you live.
Night of Stories: Student Reflections on Ministry
Thursday, March 2
7:00 – 8:30 pm (reception immediately following)
Schlatter Chapel (Mt. Tabor Campus, 2219 SW 68th Ave., Portland)
Free
Students will share their experiences with a journey to calling. You'll learn more about the how Warner Pacific students are changing and being changed by the city we call home through the love of God, self, neighbor, enemy, stranger, and the world today.