Otto F. Linn: Scholarship in Service to the Church – a lecture by Dr. Merle Strege (Sept. 18)
August 28, 2014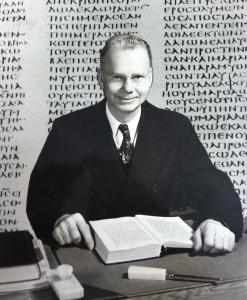 For more than twenty years Dr. Otto F. Linn served Warner Pacific College as professor and academic dean. His path-breaking career spanned the Great Depression and the Space Age.
He introduced his church to the academic study of the Bible, inviting criticism from powerful traditionalists. But Linn was convinced that the church's ministers should not let others do their thinking for them. His personal faith merged scholarship with warm-hearted piety, providing for his students and church ministers alike, a splendid example of the blend of academy and church.
Learn more about this monumental figure in the Church of God and Warner Pacific College at a free evening lecture with Dr. Merle Strege, president of the Church of God Historical Society.
The lecture will take place at the west end of the Reading Room in Otto F. Linn Library. This will be an excellent opportunity for alumni, faculty, staff, and students to learn more about the history of our College.