Increasing graduation rates
July 11, 2014
In response to the editorial "Student debt's growing risk, reward," that appeared in the Sunday, June 29, 2014, Oregonian, Warner Pacific provided the following commentary from Dale Seipp, Jr., Vice President for Enrollment and Marketing at the College: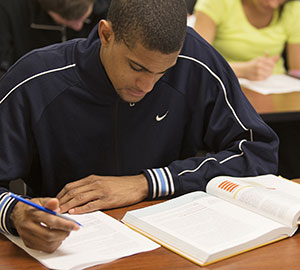 I was pleased to see the [Oregonian] editorial staff clearly lay out the benefits of investing in a college education. Having worked in Oregon higher education for 25 years, I have witnessed its changing landscape and have walked alongside students experiencing the trials and triumphs of earning their degree.
One important area that the editorial board did not touch upon, is the need to increase graduation rates among students from diverse backgrounds and those who will be the first in their families to earn a degree. With our state's rapidly changing demographics, the fastest growing population segments; low-income, first-generation, and minority youth are the least likely to earn college degrees.
At Warner Pacific College (SE Portland), we have established a track record for making college affordable and accessible to all students:
We reduced tuition by 23% in 2008, and have worked to keep our tuition increases lower than the average increase level nationally each year.
Our tuition and fees are 33% lower than other private colleges in the Northwest.
The College provides 10 full-need scholarships each year to emerging urban leaders through the Urban Service Track of the Act Six Leadership and Scholarship Initiative.
We are improving persistence and achievement through academic, spiritual, vocational, and mentoring support so that students not only enroll, but succeed in graduating.
Our faculty is exploring innovative teaching strategies to address the specific needs of students coming from generational, working class, situational, and immigrant poverty.
This multi-dimensional approach is working. In 2013, 53% of our first-year traditional undergraduate students identified as persons of color. As our institutions continue to serve a student body that includes many who are the first in their family to go to college, who demonstrate high financial need, and who are from diverse backgrounds, it is important that we provide students with the tools they need to confidently manage the financial realities of completing a college degree.
We also need to recognize that it often takes graduates some time to build their income capacity after completing college, which is why Warner Pacific launched "Freedom to Flourish," a groundbreaking loan repayment assistance program for incoming, first-time freshmen who enroll in the traditional undergraduate program beginning in the fall of 2014 and in the fall of 2015. The first program of its kind in the Portland Metro area, "Freedom to Flourish" provides assistance for all federal, private, and parent PLUS loans to students who earn less than $37,000 a year after graduation.
Commitment to diversity in higher education cannot stop at enrollment. Institutions must take the time to work closely with students and their families, ensuring that their needs are being met financially, academically, socially, and spiritually.