Former WPC President Sworn in as Mayor of Seaside, Oregon
December 16, 2016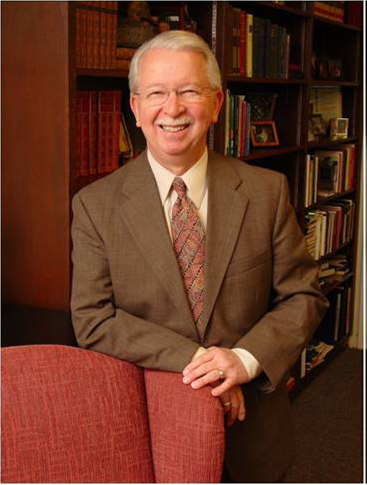 Building on a life dedicated to serving others, Rev. Dr. Jay Barber '64, President Emeritus of Warner Pacific College, is taking on another leadership role as the newly appointed mayor of the coastal town of Seaside, Oregon.
On Monday, December 5, Barber was sworn in as mayor, filling the unexpired term of former mayor Don Larson, who recently passed away. Barber and his wife Jan moved to the north coastal town in 2006 and three years later he became involved in the Seaside City Council. Barber's previous political experience includes serving as a city councilor and two-term mayor in Red Bluff, California.
In 1996, Barber became Warner Pacific's sixth president. When interviewed by the search committee, he said one of the first things he wanted to do as the College President was reinstate intercollegiate athletics, which had been discontinued in 1993. "It's such an important part of the fabric of the campus," he claimed. Three years later, Barber saw Warner Pacific Knights in action on the field and court. The continued growth and development of Knights Athletics is just one example of Barber's rich legacy at the College.
During his 12 years of leadership, Warner Pacific became debt free for the first time in its history, enrollment increased dramatically, and the College's reputation was solidified. On May 30, 2008, Barber retired; however, he didn't slow down. Sharing his strong leadership, fundraising, and strategic planning skills, Barber was appointed the first Senior Fellow with the M.J. Murdock Charitable Trust in 2008. He also served as a director and two years as chair of the Board of Directors of Mercy Corps, a relief and disaster organization based in Portland. And recently served as the interim Teaching Pastor for the 3,000 member Sunset Presbyterian Church in Beaverton.
"Jay Barber lives a life that truly exemplifies the motto of Warner Pacific College, 'Where faith and scholarship lead to service,'" said President Andrea Cook. "We are honored to be part of his story and we are grateful for his continued friendship. We wish him all the best and we are confident that the City of Seaside will be blessed by his strategic leadership."
Warner Pacific congratulates Jay Barber on his appointment as Mayor.