President Cook receives Educator of the Year award from alma mater
October 28, 2013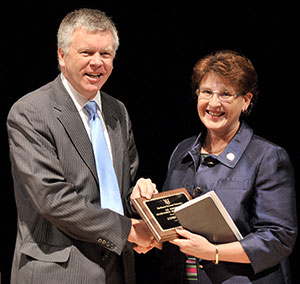 Northwest Nazarene University honored alumna Dr. Andrea Cook on Monday with the 2013 L.E. Wesche Outstanding Educator of the Year award. The award is given each year to an alumnus who has provided distinguished service in the field of education.
Cook's 30-year career has been dedicated to higher education culminating in her current role as the first female president of Warner Pacific College (WPC), Portland, Ore. A 1977 elementary education alumna, Cook holds a master's degree and doctorate both in educational policy and management from the University of Oregon. She has held positions at several colleges including Judson Baptist College, University of Oregon, George Fox University and Goshen College, working primarily in financial aid, admissions and advancement.
During her time at WPC, Cook has been a driving force behind the college embracing its identity as an urban campus dedicated to serving the City of Portland. Through specially tailored programs, first-generation students at Warner Pacific are achieving their higher education goals, paving the way to a brighter future.
During her acceptance comments, Cook said, "I have used my elementary education degree from Northwest Nazarene University each and every day of my life as I have served in all of those places and all of those roles. I'm grateful for the grounding in Christ-centered higher education, for learning how to work with people, for understand the dynamics of learning and the power of relationships in developing the ability for people to dream, achieve, flourish."
The Wesche Award is named in honor of Dr. Lilburn Wesche, NNU faculty emeritus, who graduated from Northwest Nazarene College in 1951. During his 30-year career at NNU, he was a professor, head of the education department, director of teacher education, director of graduate studies, interim academic dean and chair of the division of professional studies. Award recipients are current professionals who make a positive impact in the field of education that extends beyond the classroom.
Northwest Nazarene University, a comprehensive Christian university, offers over 60 areas of study, 19 master's degrees in seven different disciplines and one doctoral degree. In addition to its 85-acre campus located in Nampa, Idaho, the University also offers programs online as well as in Boise, Idaho Falls, Twin Falls and in cooperation with programs in 10 countries. Founded in 1913, the university now serves over 2,000 undergraduate and graduate students, more than 6,000 continuing education students, and 2,300 high school students through the concurrent credit program.