Dr. Cook Presented with OLAA's Ally for Excellence Award
October 13, 2014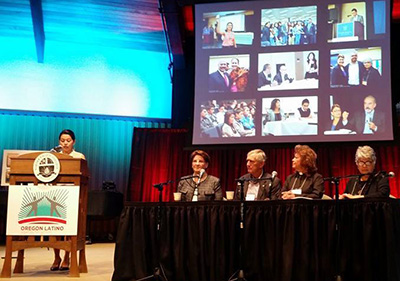 Saturday, October 11, the Oregon Latino Agenda for Action (OLAA) hosted their annual Summit at Warner Pacific.
We are proud to announce that Dr. Andrea Cook, President of Warner Pacific College, was presented with  the OLAA Líderes Award – Ally for Excellence Award. Tom Hughes, Metro Council President, was honored as well. This award is given by the OLAA to exemplary individuals who have contributed to the growth, innovation, impact, and results of our Latino community.
Of Dr. Cook, OLAA says: "We believe it is important to acknowledge community members who value Latinos and promote their abilities and contributions in government, education and health. Our board at OLAA believes that you exemplify these traits and would like to extend this award to you."
OLAA's goal is to establish a broad-based statewide coalition of Latino organizations, community groups, and individuals to strategically advocate and work for systems change and to develop policy recommendations on issues affecting our communities. The Summit is a platform to establish strategic priorities for meeting the over-arching needs of the growing number of Latino Oregonians.