Congratulations Knights' Coach Valentine on 100 Wins!
December 7, 2015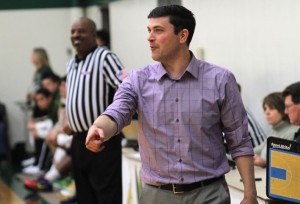 With the Knights' win over the Evergreen Geoducks on Sunday, December 6, Warner Pacific Coach Jared Valentine logs his 100th win as head basketball coach!
This is Coach Valentine's first post as a head coach. However, he has a long history with Warner Pacific basketball. He played for his father for two seasons (1999-01), and led the Knights to the NCCAA National Tournament in 2000. Despite suffering a season-ending knee injury his senior year, Valentine still ranks sixth all-time in assists at the college with 371.
In addition to his coaching duties, Coach Valentine worked in financial aid and student affairs at Warner Pacific since 2003. He continues to serve in his current role as the Compliance Director in the student affairs department.