As You Like It – Spring Production (March 10-13)
February 10, 2016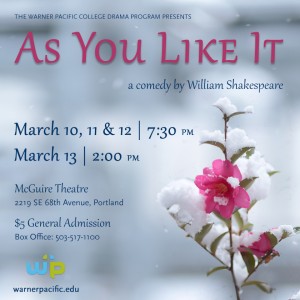 All the world's a stage, and all the men and women merely players.
Rosalind and her cousin, Celia, escape a threat of death at court and seek refuge in the Forest of Arden, where they find friendship, family, and love.
Believe then, if you please, that I can do strange things.
What: As You Like It, a comedy by William Shakespeare
When: March 10, 11 & 12 at 7:30 pm | March 13 at 2 pm
Where: McGuire Theatre, Warner Pacific College, 2219 SE 68th Ave
Cost: $5 General Admission (tickets available at the WPC Bookstore)