5 Top Reasons for Selecting an Oregon College
November 1, 2016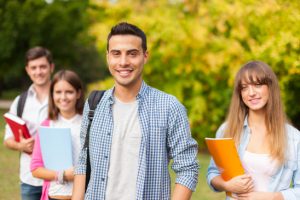 Being an Oregonian is a source of pride. With the huge amount of attention that Portland has been getting lately, with shows like Portlandia bringing the city and the whole state into the eyes and minds of the rest of the country, it's no wonder that it's starting to become a destination. Not just somewhere you are from.
That being said, people move to Oregon for a huge variety of reasons. Some move here for the notoriously seasonal weather, and others come for food and cultural reasons. If you're a student looking at the possibility of attending an Oregon college, all of these and more are great reasons to make Oregon your destination of choice. Even natives can benefit from attending college in Oregon. With 53 different colleges to choose from, there's something for everyone. No matter what major you're looking for, whether you prefer an urban city, small town, or nature-focused feeling, Oregon colleges are almost as diverse as the state itself.
Here are five reasons why you should consider choosing an Oregon college:
Pursue Your Outdoor Hobbies

(and pick up a new one or two)
Oregon is home to one of the most diverse and lively outdoor sports cultures in the country. With world renowned mountain slopes, shockingly gorgeous beaches, densely forested mountains, and high desserts galore, you can find a place to get out and explore any outdoor hobby you love. Oregon colleges are only a stone's throw away from these incredible outdoor landscapes. Mt. Hood, Mt. Bachelor, Mt. Ashland all of them are ready for the taking, no matter whether you're a skier, snowboarder, snowshoer or sledder. Take a weekend trip out to the forest and explore one of the many diverse forested areas for a hike – Portland does have the largest forested park in it's city limits: Forest Park, or take advantage of one of Oregonians favorite hobbies: camping. With tons of lakes and rivers nearby, it's easy to find a cool place to set up a tent, go backpacking, kayaking, or waterskiing during the hot days of summer. Oregon's outdoor culture is nation-renown and there's a plethora of activities to do during every season.
Get Into The Spirit With Oregon Sports Teams
Oregonians love their sports rivalries almost as much as they love the great outdoors. With two state universities only a couple hours away from each other, it's safe to say that the competitive energies run high during football season. College sports are a big focus for some of these larger universities, but Oregon boasts a few pro sports teams that have made a mark, too. Basketball lovers will find that living in the home of the Blazers is rewarding, especially when the Moda Center is only a short drive away from Portland colleges. Soccer lovers can rejoice as well since Providence Park, home of the Thorns and Timbers, is only on the other side of the river in downtown Portland. During the seasons you'll see green and yellow and black and orange all over the city as everyone gets into the mood. As such a physically active state, it's no surprise that Oregon colleges also have options for year-round sports for any enthusiast.
Experience The Quirky Culture
Portland, in particular, is known for keeping a quirky edge, but Oregon has its cultural nuances in every part of the state. As a student attending an Oregon college, you'll find a vast array of cultures and landscapes right outside your door. Whether it's a musical experience you are seeking, or amazing local food options, Oregon has a way of bringing out the best and most creative parts of it's residents. Oregon has a particular affinity for music and its medium size makes it the perfect place to draw national tours, while fostering a healthy indie band culture with plenty of opportunities to both hear and play live music. With it's focus on the outdoors, it also comes as no surprise that alternative transportation, such as biking and walking, are well encouraged and supported by infrastructure. In fact, Portland was recently named the #1 city for biking and #10 for public transit.
Enjoy Every Season
While Oregon may have a reputation for rain and residents definitely like to give off dire warnings about the lack of sun, in many ways, it's a season-lover's dream. Summers are warm with just the right number of hot days to make you want to escape to one of the glacial lakes and rivers. Fall and spring are rainy but feature a whole array of changing nature, while winter is the perfect time to cuddle up with a cup of tea and hide in softly lit cafes. Students who attend an Oregon college get the benefit of this wide array of seasonal beauty all year round. Enjoy all your favorite seasonal activities in this state as the seasons change around you.
Head Home Anytime You Want
For Oregon natives heading to an Oregon college, there's something to be said about proximity. Especially as a college student heading out on your own for the first time. While meal plans and laundromats can take care of your basic needs most of the time, there's nothing like going home to mom and dad for a home cooked meal and a little help with laundry every once in awhile. The familiarity of home can be a real comfort during finals weeks when all you need is to get away and focus on your studies for awhile. Not to mention how convenient home is for the holidays. Unlike heading out of state for college, going to an Oregon college as an Oregonian makes heading home for the holidays not only a possibility, but an easy trip. No expensive airplane tickets or difficult schedules to work around for the best flight option. Take a train, drive, or take the bus back home and you get to spend the holidays with your family.
(DMG)