Posted on January 11th, 2022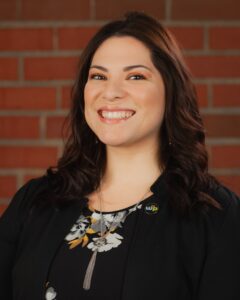 Warner Pacific University (WPU) is pleased to announce Jenise Ingleston as the new Executive Director for Professional and Graduate Studies. This vital role is responsible for building relationships with corporations, NGOs, professional associations, community organizations, churches, and local and regional affiliates (religious, non-profits, etc.) for the purposes of creating viable enrollment pipelines and partnerships that support the institution's enrollment efforts within the Professional and Graduate space.
Critical to establishing the pipeline is ensuring the differentiation of the University positions as a strong option for graduate studies with emphasis on specific graduate programs aligned with market demand. As the University embarks on developing its corporate strategic enrollment plan, Mrs. Ingleston will be responsible for identifying opportunities and managing relationships that would generate prospects highly likely to enroll into the graduate programs at Warner Pacific University.  This position reports to the Vice President for Enrollment Management and serves on the enrollment leadership team.
Currently, Jenise has been serving as the Interim Director of Enrollment at the University.  Through this role, she has gained experience on potential pipeline development strategies and understanding the landscape of the Pacific Northwest. Prior to joining Warner Pacific University, Mrs. Ingleston served as Campus President for MB Merit Institute in Texas where she developed and executed strategic marketing approaches to increase enrollment in addition to cultivating external relationships with companies, governmental, and educational institutions. Through this role, another vital accountability aspect of the role was project management in developing new courses and change management tied to maximizing brand recognition and managing lead generation.  Mrs. Ingleston also served in other roles such as an account executive for Spectrum Business and Business Instructor for Advanced Medical Training and Technology through which she managed business sales for commercial accounts, focused on customer service relations, and understand the needs and demands of non-traditional learners.
"Jenise is a highly relational individual with a strong knack for identifying needs of the client — students — and providing exceptional service. Her ability to hone in on need, understanding the collaborative nature of providing excellent service, enhancing operational efficiencies, and marketing branding, make her a fine fit for this role given her experience in the adult and graduate spaces. She will execute a strong strategy that will yield in high conversion for Professional and Graduate enrollment at Warner Pacific," noted Dwight Sanchez, Vice President for Enrollment Management.
Mrs. Ingleston holds a Bachelor's in Science in Business Administration from University of The Incarnate Word, San Antonio, Texas. Her tenure commences February 1, 2022.
---