Posted on January 10th, 2022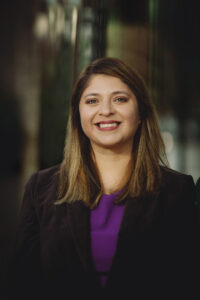 Warner Pacific University (WPU) is pleased to announce Araceli Cruz as its new Assistant Vice President for Student Success and Engagement. She brings over 10 years of professional expertise in the areas of college access, student success, statewide issues, holistic community-based strategies, and financial aid & scholarships.
"Ms. Cruz is a welcomed addition to the Student Success and Engagement division, as she has done extensive work with community groups that are representative of the student demographic we serve. Her background in liberal arts education only solidified that she is well seasoned to help lead students toward their purpose" noted, Dr. Ashlee Spearman, Vice President for Student Success and Engagement.
Her role will provide strategic leadership and support for initiatives such as: career services, retention strategies, community partnerships, grant initiatives as well as serving as an advocate and voice for students. "Araceli Cruz's life and work experiences are a great fit for Warner Pacific University's mission and vision. She recognizes the importance of meeting students where they are and that work is an integral part of the calling we want our student's to discover as they go out into the world."
Ms. Cruz is a first-generation Latina higher education administrator and advocate who is passionate about advancing educational equity and economic justice for all students. Throughout her career, Ms. Cruz has been committed to removing barriers for underrepresented groups, including BIPOC, undocumented, and first-generation students, in higher education. She has used her bilingual and bicultural skills to develop culturally specific strategies to bolster students' success and family engagement in post-secondary institutions.
"I have been connected to the WPU community for some time and now I'm really excited to join in a professional capacity," Ms. Cruz shared. "WPU has been uniquely positioned to serve a diverse population of students and have solidified their efforts by becoming a Minority Serving, Hispanic Serving Institution. I'm energized by the direction WPU is headed and thrilled to be part of this next chapter of Portland's most diverse private liberal arts university."
Ms. Cruz currently serves as an advisory board member for the Latino/a/x & Indigenous Student Success Advisory Group for Oregon's Department of Education and Gear Up Oregon Goes to College Educator Advisory Council. In 2020, she received the Distinguished Service Award from the Oregon Association of Student Financial Aid Administrators, in honor of her efforts to advance equity, Diversity, and inclusion for students in Oregon.
Ms. Cruz received her Master's in Student Affairs Administration from Lewis and Clark Graduate School of Education and Counseling. She holds Bachelor of Arts in Sociology and minor in Spanish from Linfield University. In her free time, she enjoys spending time with family and friends and traveling with her husband.
---