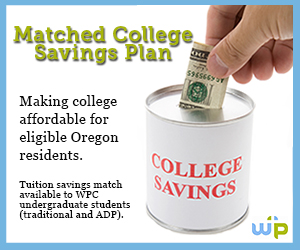 Finding ways to fund your future:
Specific for traditional Undergraduate students:
Specific for Adult Degree Program students:
---
The Murdock Scholars Program at OHSU, funded by the trustees of the M.J. Murdock Charitable Trust brings the brightest science majors from local private institutions of higher education to work in the nationally recognized laboratories of the OHSU Heart Research Center and the Knight Cancer Institute.
Questions?  Call Student Financial Services at 503.517.1091 or email (financialaid@warnerpacific.edu). For students enrolled in our Adult Degree program, contact us at ADPFinAid@warnerpacific.edu.