Posted on October 24th, 2023 in News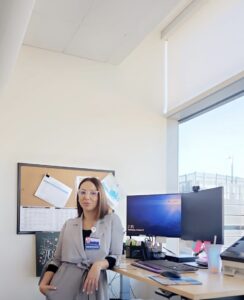 This month we shine the spotlight on Lidija Cvijetic Jackson '21, an exceptional alumna whose story is a testament to the power of faith, determination, and the guidance of mentors in shaping one's path towards success. 
When Did She Attend WPU?
Lidija's journey with Warner Pacific began in the year 2020. It was a time marked by uncertainty and challenges for many, but for her, it was an opportunity to learn that sometimes letting go of our own plans in favor of God's plans is the best decision we can make. She initially enrolled in another university's program, but it became evident that God had a different path in mind, as that program eventually closed its doors. With unwavering faith, she transferred to Warner Pacific, where a new chapter of her life would unfold. Lidija took an unconventional approach to completing her degree by learning remotely from Europe.  
What Made Her Decide to Attend Warner Pacific?
Since her husband is a Portland native and having visited the city every summer for over a decade, Warner Pacific was a name she had known for a long time. Her connection with the university went beyond academics. It was a place where inclusiveness, diversity, engagement, and a strong foundation in Christ were palpable. Her summers were filled with attending basketball games, connecting with students and alumni, and forging deep and meaningful relationships that would lay the groundwork for her future at Warner Pacific.
How Did She Manage Online School from Europe?
Originally from Serbia, Lidija lived between Italy and Serbia during her time attending Warner Pacific. Undertaking online education from Europe, with a significant time difference of nine hours between Portland and her location, was no small feat. Yet, Lidija's determination and passion for learning in a field that was new to her, all in her second language, kept her on the path to success. Juggling her studies with the responsibilities of being a working adult and a mother of two young children was challenging, but the flexibility of the curriculum allowed her to set her own pace, making it possible to achieve her goals. She reminds us that the distance between dreams and reality is bridged by action. 
What Was Her Major and Why Did She Choose It?
Her choice of major, Health Care Administration, was driven by her love for both people and administration. She recognized herself as a leader and a "people person" who enjoyed understanding different personalities and aligning their unique skills with projects for the betterment of the team. Her commitment to fostering a supportive, cheerful, and positive work atmosphere made her a natural fit for this field. Administration brought her joy, and organizing tasks and creating workflows brought her peace.
Who Was the Most Influential Person During Her Time at Warner Pacific?
When reflecting on her time at Warner Pacific, one name stands out as the most influential: Professor Jorge Melendez—who is also a WPU alum and graduated in 2012. His dedication to education, leadership, and faith left an indelible mark on her. Their discussions often ventured into topics like faith, books, and leadership, with Professor Melendez epitomizing the idea that leadership is not about being in charge but about taking care of those under your guidance. 
What Has Her Career Journey Looked Like Since Graduating from Warner?
After graduating in May 2021, she moved to the United States in July of the same year. Her career journey began just a week after her arrival, and it has been nothing short of a blessing. She emphasizes the pivotal role that Professor Melendez played in opening doors for her. He offered her an entry position with Providence Infectious Disease and Endocrinology, despite her limited experience in the field. Recognizing the importance of understanding her team's work at its core, she embarked on this journey to acquire the foundational knowledge needed to be a successful leader. 
Her faith and hard work paid off, and within ten months, she was promoted to a lead position. Less than two years into her career in healthcare, she was elevated to the role of Clinic Supervisor. Dr. Jorge Melendez spoke very highly of Lidija stating: "She is an amazing leader who takes the initiative and understands complex phenomena."  
Throughout her journey, Lidija has stayed with the same teams, grateful for their support and encouragement. While she may not always be hands-on with patients, she is proud to lead and assist her teams and the doctors involved in direct patient care.
How Has Faith Played a Role in Her Life?
Faith is at the heart of everything she does. Her unwavering belief in God's guidance has been a driving force in her life. She shares a quote from 2 Samuel 22:2–4, "He is my stronghold, my refuge, and my savior. You saved me from violence. I call upon the Lord who is worthy to be praised, and I am saved from my enemies," which encapsulates her faith journey, emphasizing that God is her stronghold and refuge.
What Piece of Advice Does She Have for Current WPU Students?
Our alumna leaves a piece of advice for current Warner Pacific students, particularly those in the Health Care Administration Program: never stop learning. Develop the skill of learning how to learn. Seek workplaces and leaders that create an environment where you feel safe to make mistakes, learn, and be yourself. Most importantly, carry the message from Romans 8:31 with you throughout your life: "If God is for you, who can be against you?" 
This inspiring journey of faith, dedication, and success reminds us all that with the right guidance and unwavering faith, we can achieve our dreams and make a meaningful impact in our chosen fields. Feeling motivated by Lidija's narrative? Don't hesitate to contact our Admissions Counselors for further details on how you can join our Professional and Graduate Studies (PGS) program for next year! Alternatively, you can explore our article from the previous month to gain deeper insights into the Health Care Administration Degree. 
---