Warner Pacific University is the first four-year college or university in Oregon to receive designation as a Hispanic-Serving Institution by the U.S. Department of Education.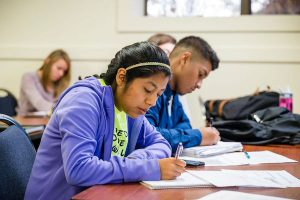 Warner Pacific earned the Hispanic-Serving Institution (HSI) designation after meeting enrollment criteria from the U.S. Department of Education that requires over 25 percent of full-time students identify as Hispanic or Latino. With 30.1 percent of its student body identifying as Hispanic or Latino, Warner Pacific University is the first and only bachelor-granting HSI in Oregon, and one of only twelve HSI-designated institutions in the entire Northwest.
"Receiving the HSI designation is a reflection of the mission, vision, and values of Warner Pacific," said Dr. Andrea P. Cook, president of the University. "Our commitment to empowering Hispanic and Latino students, as well as those from other historically under-represented backgrounds, stems from our confidence in these students to step up to the challenges of the future and be the next generation of leaders in Portland and beyond. Warner Pacific honors the unique contributions that our Hispanic and Latino students are making across our campuses and we continue to support the development of all our students who come to this University seeking a diverse learning environment that prepares them to engage actively in a constantly changing world."
Becoming a Hispanic-Serving Institution
The HSI designation is a public recognition of the intentional work that Warner Pacific has been focused on for more than a decade. In 2003, just 13 percent of students at Warner Pacific identified as people of color. Today, 63 percent of the student body comes from racially and ethnically diverse backgrounds and 57 percent of students are the first in their family to attend college, making Warner Pacific University one of the most diverse higher education institution in Oregon.
Warner Pacific understands that equitable access to higher education requires more than just diverse enrollment. That is why the University provides personalized attention and support, with class sizes that average 12 students. Earlier this year, Warner Pacific made earning a degree even more attainable when they announced a 24 percent tuition reduction in their traditional undergraduate program, making it the most affordable private institution in Oregon.
HSI Designation Benefits All Students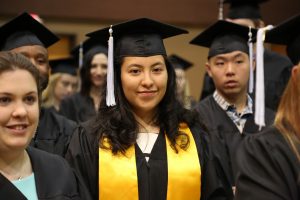 The HSI designation benefits all Warner Pacific students, as it opens the door to scholarships for any student who attends an institution that is a member of the Hispanic Association of Colleges and Universities (HACU), regardless of race or ethnicity. Federal agencies that provide grants and scholarships to students attending HACU institutions include the departments of Agriculture, Education, Health and Human Services, Housing and Urban Development, and the National Endowment for the Humanities.
"Education is the best way to support the continued growth and vitality of our communities," said Carmen Rubio, executive director of Latino Network. "By recognizing the inequities often present in higher education and addressing this issue head-on, Warner Pacific is leading the way to a brighter future."
Rubio continued, "I am grateful for the University's leadership in being the first four-year institution in Oregon to receive the HSI designation. Warner Pacific provides a pathway to the career-focused degrees that will strengthen and equip Oregon's future leaders."
Published: May, 3 2018
---