Posted on September 26th, 2023 in News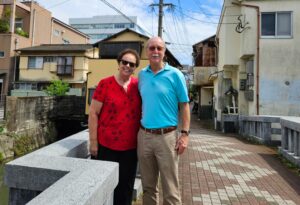 Going to Warner Pacific College 
Randy Irwin '75 grew up in North Highlands, California near Sacramento and started at WPU (known as Warner Pacific College at the time) in the fall of 1970. His grandparents encouraged him to attend and in fact would send in an application for each of their grandchildren to Warner. "The year before I came to Warner, my father had passed away," said Randy. "I was not regular in church at that time, but I was at a point in my life where I wanted to launch out and get away from Sacramento. When I got my letter of acceptance, I told my mom, 'Mom, I'm going to be heading out at the end of the summer for this school in Portland, Oregon.' I really knew nothing about the school."  
When Randy started at Warner, his goal was to major in Architectural Design. During his first year, Randy became the freshmen class president. After a transformative summer in Petaluma, California, where he worked in ministry, he began to rethink his major. Consequently, he temporarily left school during his second year to work for Earl Kelly, who oversaw the college's food service. 
However, Randy's journey brought him back to Warner after a year, where he was enrolled in Introduction to the Old Testament. "Class after class, I couldn't get enough," Randy said. As he delved deeper into his studies, his life's purpose became clearer, and he felt a divine calling to go into ministry. This led him to change his major to Bible studies. Concurrently, Randy began attending the Vancouver First Church of God, where Pastor Gerald Marvel became a significant mentor, guiding Randy and four friends over the next three years. 
Randy's wife, Sandi (Tanner), also a Warner Pacific graduate, joined the college as a transfer student for her sophomore year in 1972. Their paths intertwined through their participation in the concert band, and their bond deepened during a two-week European tour. Randy and Sandi tied the knot in 1974. 
Washington and Indiana 
Post-graduation in 1975, Randy received an invitation to serve as a Youth Pastor in Spokane, Washington, which he accepted for a year. Encouraged by an adjunct professor from Warner Pacific, Karlin Capper-Johnson, Randy's interest in history blossomed. Consequently, he decided to attend seminary at Anderson University, opting for a master's degree in Church History/ Missions instead of a Master of Divinity.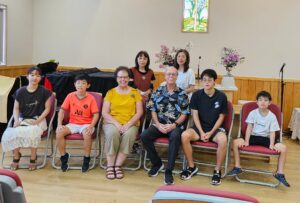 Japan 
During his seminary years, Randy was invited to chaperone a group of students on a Tri-S trip to Japan. This experience led to an unexpected teaching position at Saga University and Saga English Center. "That was my first taste of being involved in education," he said. Saga City is where the Irwin's first son, Brandon, was born in 1979. "Our son was the first American born in Saga City, Japan" Randy said. 
While in Japan, Randy and Sandi followed the journey of Bernie and Cheryl Barton, who were short-term missionaries like them. Bernie returned to seminary, completed his degree, and became a career missionary in Japan. Cheryl's brother, John Johnson, later became a professor at Warner Pacific. 
Hawaii 
Their next adventure unfolded when they received a call from Don Johnson—Cheryl's and John's father—inviting them to pastor the Aina Haina Church of God in Hawaii in 1980. This was where their second son, Brett, was born. 
While he was serving in Hawaii, Randy wanted to have fellowship with other Church of God pastors, so he connected with the Northern California/Nevada Association secretary, Howard Kernutt, at the time. Together, they worked to include Hawaii as part of that association.  
Ohio & Canada  
Randy and Sandi's ministry in Hawaii lasted for five years until God began to move, and Randy received a phone call from another close friend, Lee Wallace, who wanted them to come minister in Ohio. The Irwin's moved to Ohio for four years and worked alongside Lee. 
Following their time in Ohio, they were asked to move to Canada to a Church of God in Alberta. While in Canada, Randy was also an adjunct professor teaching a world religions class at Hillcrest Bible College for a couple of years.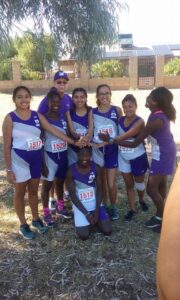 Arizona 
The call to Arizona came next, where Randy pastored for eight years until 1999. Feeling God's prompting, he stepped down from pastoring and transitioned into full-time teaching. Randy enjoyed a 25-year career as a pastor before making this shift. 
A friend of his, Sid Bailey, was a principal at Washington High School in Arizona. "He heard that I had started teaching and asked me what it would take for me to come there," Randy said, "Sid replied, 'Randy, I'm going to give you nine years' experience with a master's degree,' plus some other hours that I'd been taking." That was the beginning of what would be Randy's 18-year journey at Washington High School.  
Sandi, Randy's wife, also followed an educational path, obtaining a master's degree in School Counseling after her initial degree in Sociology from Warner. Their two sons also became high school teachers, making it a family affair in the same school district. The Irwin family's involvement extended to coaching, with Randy and his eldest son, Brandon, coaching football plus track and field, Sandi announcing at track meets, and their younger son, Brett, coaching football and soccer. 
"The interesting thing is that when I went to Warner and Anderson Seminary, teaching was the furthest thing from my mind, and yet the majors I chose fit right into education," stated Randy. "My bible classes at Warner were categorized under 'Literature,' and my Masters degree in Church History fit under the category of teaching history. So, my teaching certificate made me eligible to teach English, Reading, World History and US History." 
While Randy was at Warner, he did not expect his life journey to be what it had been. "It's funny. My wife and I were just talking about how when we were dating, we looked at each other before we even got married and I asked her, 'Sandi, you don't feel called into missions, do you?' And she said, 'No, I don't.' and I said, 'Oh good. Neither do I.' But God had different plans for us," said Randy.  
Randy continues to teach with plans to return to Prescott, Arizona to teach math for a dear friend who is expecting her first child. Additionally, he and Sandi recently spent two and a half months in Japan, teaching English and helping pastor the Futsukaichi Church while Pastor Barton journeyed back to the U.S. While in Japan, Randy also had the opportunity to coach a young Japanese high school student in hurdles, much like he had done in Arizona. 
"When I look back on my experiences at Warner Pacific College, and where I have been in my life, I have come to realize that the foundations that were laid down there propelled me forward to not only serve God but devote my life in serving others," Randy said. The Irwin's have now returned home to Arizona, confident in God's continued blessings and the ongoing journey of their lives. 
---