Posted on July 25th, 2023 in News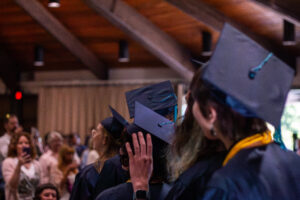 At Warner Pacific, we strive to continuously live out our mission with purpose. One way we accomplish this is by partnering with organizations that help us grow and expand similar values. Last month, Portland Community College (PCC) hosted a graduation ceremony at WPU for their students enrolled in the "Yes to College" and "Gateway to College" programs – students who are now poised to consider universities like WPU. 
Bridge programs are designed for students who may have struggled with or dropped out of high school in the past and could benefit from a "college success" coach to serve as a mentor and advisor along the way. At PCC, coaches also teach a foundational class, known as the College Guidance (CG) class. Students in these programs work with their college success coach from the time they begin the program until they finish.  
The Yes to College program started in 1997 at PCC. It is designed specifically for students who have dropped out of high school, are not able to graduate with their class, or speak a different first language other than English. This program offers students skills and support to help them become a successful college student and to succeed in the workforce.  
The Gateway to College program started in 2000 at PCC. This program lets students get their high school diploma while earning college credit. Many of the graduates go on to finish AA degrees at PCC and transfer to four-year colleges. 
"A majority of students in these programs thought that college was never a possibility," stated Jazmin Velazquez, Admissions Specialist at PCC. "We try to make graduation super special because it is, but also it means so much to the students. We work hard to show these students that college is a possibility, and they can move on to do whatever they want to do and be successful." 
The graduation ceremony, held in McGuire Auditorium at the WPU campus, celebrated the achievements of 70 students this year. 
"This is the beginning of a new journey for all of us, and a journey where we will learn to use our gifts to create the future we want to see," stated one student chosen to give a speech at the ceremony. 
WPU's unique mission of empowering all who walk through our doors with an excellent Christian education in an urban setting makes our university a great choice as a next-step destination. Congratulations to all the students in these programs! We are blessed to have honored your milestone of graduating high school at our beautiful Mt. Tabor campus. 
---