Posted on October 16th, 2023 in News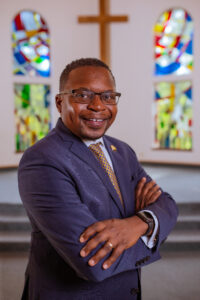 Dear WPU Community,
I don't use the word "historic" very often when it comes to university life – simply because I believe we are in fact already in the business of creating new history every day…every moment our students access new knowledge in the classroom, every instance our graduates begin a new career that fulfills their calling, every ripple effect of higher education that projects the love of Christ outward into the wider world.
But this month, I'll make an exception: October has been nothing short of historic for Warner Pacific University.
This month we learned we are the recipient of a U.S. Department of Education grant in the amount of $3 Million, specifically to support our role as a federally designated Hispanic Serving Institution. We are the first and only university in Oregon's history to have received this caliber of public award, and I am honored that it has gone to a Christ-centered university – what an affirmation of our faith-in-action mission! Please find all the details of the grant in our lead story in this month's edition of e-news; but here in my column, I'd like to add a personal note: that it is through your prayers of support that Warner Pacific is continuing its long trajectory of hope and service to the world. We stand on the shoulders of our alums, current and retired staff, Board of Trustee volunteers today and over the years who have helped bring us to the point of building these new and rich services for our students. Thank you! And please reach out to us to learn how you can help further this tremendous opportunity.
Overall, we find WPU's mission of hope and service to be increasingly called upon in our changing world. I'll offer two further examples from this month: First, on the "civic" side of things, I am privileged to be beginning a term of service on the Student Aid Policy Committee for the National Association of Independent Colleges and Universities, the first time WPU has been asked to join this kind of forum. This committee works to increase proven federal funding for low and middle-income students to persist and complete college degrees – a very relevant problem facing many of our students. Secondly, on the "sacred" side of things, I am serving as a panelist speaker with my friend and colleague, Dr. Barry Corey – President of Biola University – at the "Executive Symposium for Free Expression and the Faith-Based University". This gathering is hosted by the Bipartisan Policy Center in partnership with the Center for Civics Education and Concordia University Irvine, and represents the relevance of WPU's voice.
It is these kinds of opportunities that emphasize how God is calling upon Warner Pacific University to continuously serve the world. I'm reminded of Isaiah 6:8:
Then I heard the voice of the Lord saying, "Whom shall I send? And who will go for us?" And I said, "I am here! Send me!"
Thank you for supporting Warner Pacific University so that we may always be ready to step forward to answer God's call – humbly, collaboratively, and continuously.
In Christ,

Brian L. Johnson, Ph.D.
President
Warner Pacific University
---