Posted on July 25th, 2023 in News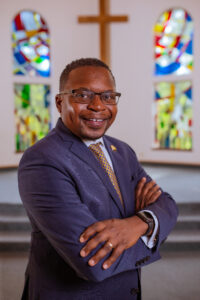 Dear WPU Community,
If you know me, you know how much I love alliteration! This summer brings to mind a good one for me personally: "Feeling Fulfillment and Fruit at Fifty!" Let me explain… In scripture, summer is often referred to as a season of growth and renewal – a time for fruitful harvests and realizing the abundance of God's gifts. I experienced a moment like this when I celebrated my 50th birthday earlier this month. Though it was a time of fun and celebration with family and friends, I found it also to offer a profoundly fulfilling moment of reflection time with my Lord, thanking Him for all the gifts—good and hard times—that have allowed me to arrive at this place, and asking for guidance as I set my intentions for the future. I know aging isn't always a popular value in society, but if you are a person of faith, it can become an opportunity – to realize your time on earth is limited, to accept the person you are, to choose to let go of negativity, to draw closer to Christ with your spiritual practice and above all, to listen and pursue the plans God has for you with gladness in your heart. 
I want this same exact moment of fulfillment to be available to all we serve at Warner Pacific University, no matter where they are on the spectrum of life. College is a grand opportunity to choose a life lived "With Purpose" (as reflects the "WP" in our university emblem). It is our mission to provide education that not only provides mastery of a subject, but challenges students to think critically, grow in faith, and crystalize a vision of how they can uniquely serve our world for a lifetime.
The second part of my alliteration – the "fruit" – is something I particularly feel as I help my youngest son transition to college this month, moving into the dorms and getting situated. It means my wife and I are "empty nesters" at last! We are profoundly proud of both of our sons and their pursuits in college, which makes the life transition a little bit easier to bear. That said, I can empathize with the many parents who have been taking their kids to WPU this summer for college visitation days, knowing it's not a small choice. They can rest assured we will provide a warm and welcoming environment for every student who comes to WPU and remain committed to their growth and success the whole way through. Whether students are coming to us right out of high school or returning as adults, summer gives us a chance to witness the "fruit" of decision-making that prioritizes great education. 
Finally, I am fulfilled by the calling we have as a university to be a light to our community here in Portland this summer. As you'll read about in this issue of e-news, these months we play host to a variety of nonprofit and Christian groups, including churches, athletic associations, civic and community clubs, educational groups and even the Portland Symphonic Choir, whose performance of Mozart's Requiem in D minor was made to sound extra gorgeous in the rounded walls of our McGuire Auditorium. If you are in the neighborhood, I invite you to take part in on-campus community events and enjoy our green spaces along Division Street. 
As always, I am thankful for your continued prayers and support of the WPU mission. May God richly bless you this summer! 

Brian L. Johnson, Ph.D.
President
Warner Pacific University
---