Posted on October 24th, 2023 in News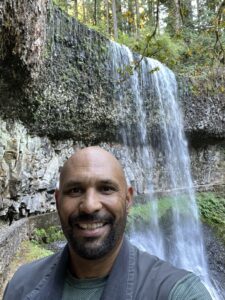 This month, we introduce you to one of our newest Professors, Corey Falls, who describes his journey from law enforcement to education. He has joined us as WPU's newest Criminal Justice professor. 
Corey began his journey in the hilly landscapes of "big sky country" at the University of Montana, where he pursued his undergraduate degree in Health and Human Performance. He was drawn there by a full-ride football scholarship and had the honor of being part of their 1995 National Championship football team. 
After college, Corey embarked on a 21-year journey in law enforcement. His career was a tapestry of roles that included being a police officer, detective, sergeant, lieutenant, deputy chief, and eventually, the Sheriff of Jackson County. He also served as the Director of Police Services and was a champion of 21st Century Policing. Corey completed his career in local government as a Deputy City Manager, overseeing all aspects of public safety. 
Throughout his career, Corey's involvement in training programs kindled a desire to give back and teach at the university level. Three years ago, Warner Pacific provided him with the opportunity to fulfill this dream when he became an Adjunct Professor. His deep alignment with the University's Christian values made it a perfect fit for him. 
Corey's interest in criminal justice traces back to his childhood where he always aspired to be a police officer and serve his community. His motivation was twofold: to hold criminals accountable for their actions and to provide help and justice to those in need. 
When asked about what he loves most about his role as a professor, Corey expressed, "I love being in the classroom, engaging with students, and being part of their journey to learn. Corey is currently teaching a diverse set of classes, including SOC 340 Race & Ethnic Relations, HUM 310 Faith, Living, & Learning in Traditional and PGS, and SOC 345 Social Problems and Public Policy. 
As an individual with a wealth of experience in the field, Corey has valuable advice for students interested in studying criminal justice. He recommends aspiring students to have "a servant's heart, be people-oriented, patient, and adept at solving complex problems while maintaining grace and compassion." 
With such wisdom and experience to offer, Corey is truly a treasure for our university community. We are grateful to have him on board and look forward to the lasting impact he continues to make on our students. 
---