Posted on July 25th, 2023 in News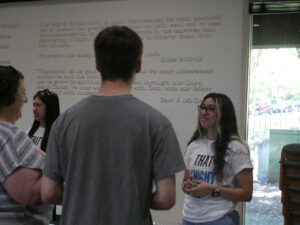 Last month more than 70 students and family members gathered on a sunny day on the hillside of Mt. Tabor. The WPU campus hosted "Admitted Student Day" — a special event for future Knights to get a taste of WPU college life and experience a full day of fun activities to welcome and support their journeys.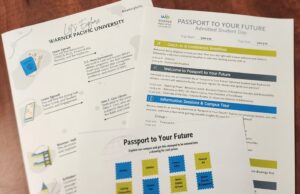 The theme was "Passport to Your Future" where students received a passport-inspired welcome packet and earned a stamp for each activity they completed throughout the day. Each activity was planned to ensure students left feeling more prepared and at ease to begin college this fall. 
Guests gathered for check-in at McGuire Auditorium and a continental breakfast served by our award-winning food service provider. VP of Enrollment Dr. Darilis Garcia then opened the day in prayer and outlined opportunities to plan for the next step in joining the WPU community.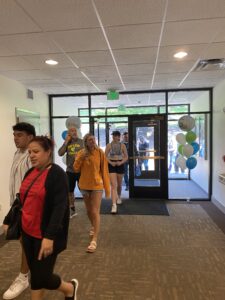 Students and their guests were divided into two groups to attend different informational sessions. They learned about financial aid, student accounts, learning communities, academic support, campus safety, and were given a campus tour. Once the sessions were completed, students were served a delicious lunch and visited with current students and faculty in our dining hall.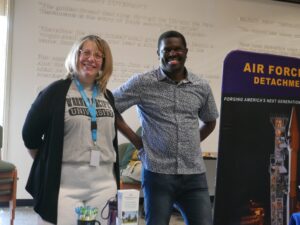 Following lunch, everyone met back in McGuire for exciting prize drawings, including a scholarship giveaway! They then divided back into two groups to attend a meet-and-greet panel with the deans. Students already committed to WPU registered for fall courses and moved through the next steps of the enrollment process. Others were able to use the day as a sort of "preview day" to gain valuable information about WPU to help make their college decisions.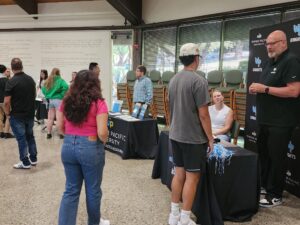 "It was a great day for students to see campus, meet future classmates, and get registered for fall courses," said Christina George, Admissions Counselor. "It allowed us to meet personally with students we have been working with for quite some time." 
"It was awesome getting to talk to incoming students and their families during the campus tour," she continued. "They had a lot of meaningful questions, and it was exciting to hear what they are looking forward to."  
---