Still time to order your 2014-15 Yearbook!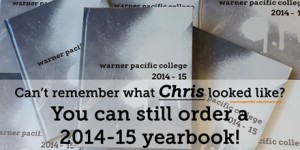 Regretting not getting your 2014-15 yearbook? We've made it easy for you to relive last year and order your yearbook now.
Just log into TreeRing
Create an account (watch this instructional video)
Enter the passcode: 101410288646366
Put together your personalize pages
Confirm the order and pay
Your book will be shipped directly to you
Why get a yearbook?
Wouldn't you rather have a yearbook that has the year YOU remember?
Imagine having the ability to put in your photos and memories in the yearbook. No one will have the same yearbook as you and that's the way it should be, because this is Your Year, Your Yearbook!
Warner Pacific is now offering a personalized college yearbook.
Are you an Athlete and have photos of your favo
rite bus ride to a game or are you a Thespian who has multiple pictures of the cast backstage?
Put them in your yearbook because you are allotted two free pages to put your memories on, but don't stop there, add a few more pages for just an additional $3.99 cost to make sure you remember the school year.
Some reasons we changed it up:
Not everyone gets featured in the yearbooks.
Warner Pacific is YOUR school and this is YOUR yearbook and you should be in it!
Why not!? You get to make it your own.

So, for only $17.15 (S/H may apply) you will receive 2014 Warner Pacific College Yearbook that includes each season's events and happenings and the two free personalized pages (with the option to add more for $3.99 for each extra two-page spread) and you can have it shipped right to your home address.

If you do not want to add any personalized pages, you don't have to add them; however, the price remains the same ($17.15 plus shipping and handling).
With all that said, let's get your yearbook started.
Click here for a step by step guide to help with signing up and personalizing your page for the best yearbook ever.
Use code 101410288646366
Questions? Contact kwells@warnerpacific.edu with any questions.