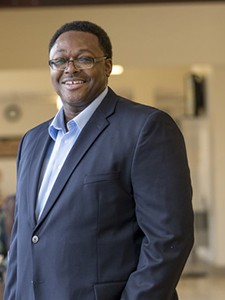 Adjunct Professor-ADP
Email uspears@warnerpacific.edu
Education
Regent University, Virginia Beach, Virginia, (DSL), Doctorate of Strategic Leadership
Certificate of Advanced Graduate Studies in Leadership, Regent University, Virginia Beach, Virginia
University of Phoenix , Portland, Oregon, MS., Management
Corban University, Salem, Oregon, BS., Psychology, minor in Bible
Background
Dr. Spears worked for more than 15 years in the fields of education, nonprofit, business, and leadership development. He serves as the president of Strategic Leadership International, an organization that provides leadership training to leaders and organizations through consulting, coaching, training, and mentoring. Dr. Spears is a speaker and educator providing practical, academic, and spiritual perspectives that address issues affecting human, social, business, and spiritual development. He has a passion for empowering leaders and organizations to be innovative, creative, and proactive industry pacesetters. As a result, he serves in the role of consultant and advisor, providing trainings that challenge, inspire and develop leadership skills, habits, and qualities in the areas of change, strategy, and management
To teach in the college and university setting is truly an honor. Dr. Spears' commitment to education, preparation, and service in an environment of purposeful and rigorous inquiry is a high priority. He is especially fond of the inquiry aspect of the student experience at Warner Pacific College because it is through investigation that students can either prove or disprove theories, philosophies, and dogmas.
Publications
Dissertation/Doctoral Project: The Leadership Family Model-Multiplying Leadership Families through Mentoring and Coaching-Regent University, May 2011
Articles:

Outliers & Harbingers of Change Affecting the Church, Christian Futures Network, December 20, 2011
Beam Me Over Scotty: Holographic Pastors by 2030?, Christian Futures Network, March 24, 2012
Word-Action Signals: Identifying Incongruence between Strategic Leadership Practices and Values, Strategic Leadership Review, Volume 2, Issue 2, June 2012 ISSN: 2164-5108

Book: Coaching Leadership Families: Using the Leadership Family Model to Coach, Mentor and Multiply Healthy Families, Xlibris Publishing Company, November 6, 2012
Research Interests/Areas of Expertise
Leadership, Management, Futures Studies, Human Development, Non-Profit, Small Business, Mentoring, Coaching, Advising, Consulting, Strategy, Church & Marketplace.