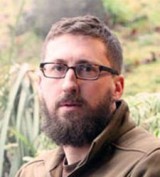 Senior Adjunct Professor of Humanities
Email: dmoyer@warnerpacific.edu
Education:
M.A. Philosophy: 'The Priority of the Human in the Philosophy of Emmanuel Levinas'
University of Oregon, Eugene, Oregon
M.A. IS:IP Sociology, Religious Studies and Philosophy: 'Ethnography, Storytelling and Phenomenology: Good Problems in Writing Religion'
University of Oregon, Eugene, Oregon
B.A. Philosophy and Religion
Warner Pacific College, Portland, Oregon
Background:
Derek has been teaching at Warner Pacific College since 2010. Since 2012 he has been a faculty director for one of the College's First-Year Learning Communities, entitled "Food Carts, Farms, and Freddy's: Thinking about Eating in Portland."
Derek's teaching focuses on social and environmental ethics, and their intersections with the theological worlds we inhabit. In the past few years his research and teaching have increasingly focused on cultivating moral frameworks for understanding our relationships to food systems in the Portland area, and this has led to ongoing collaborations with organizations working to address food insecurity and food justice in Portland. Derek is currently working on a book for high school and college students that invites them to consider the purposes and roles of college and liberal education in the United States in the 21st century.
Besides teaching, Derek spends most of his time gardening with his wife and his two sons, and, in the summer, fishing and camping around Oregon. Any time left over is devoted to biking, golf, reading, and playing the piano.
Professional Affiliations:
North American Levinas Society, 2008-Present; Member, Selection Committee for Seventh Annual Meeting, Anchorage, Alaska, 2011-2012
Seminary Stewardship Alliance, 2016; Liaison
International Association for Environmental Philosophy, 2011-2014
Society for Phenomenology and the Human Sciences, 2010-2013