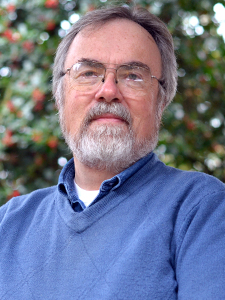 Professor Emeritus of Educational Psychology
Email LFoltz@warnerpacific.edu
Phone 503.517.1042
Education:
Ph.D. University of California at Berkeley, 1978.
Thesis: "The Implications of Cognitive Restrictions Upon the Effectiveness of Selected Values Clarification Activities"
Background:
TRAVEL: Repeated visits to cultures in Africa, Europe, Meso-America, Australianesia, and Asia.  (Fifty-six countries so far.)   Focus:  small town life and symbols of reverence.
Most Recently:
Villages of South Africa, Mozambique, Swaziland, Lesotho, Botswana, Zimpabwe,
Zambia, Milawi, Tanzania, Kenya, and Rwanda
Acadian villages of Nova Scotia and New Brunswick
Yucatan Mayan Temples…focus on Uxmal.
Smaller Mayan ruins of the Yucatan
Cambodia, Vietnam, Thailand and Laos
Buddhist temples and monasteries of Taiwan
Shinto temples and festivals of Japan
Other Interests: Transformation of farm property into a small watershed/wetland wildlife preserve with assistance from the Multnomah County Water Conservation District.
Photography,  Painting in Oil  and Watercolor Painting.
Research/Publications:
"Being the Gift"  in Markle, D. (ed.).  First Steps to Ministry.  Anderson, IN: Warner Press, 2001.
YET TO BE PUBLISHED: Mindful Worship: A User's Guide
Construction of an instructional, interactive (and fun) CD for ministerial staff relating key concepts of  "understanding", "faith", "worship", and "reverence" to participatory application of symbols within the levels of cognitive developmental potential.
"A Mind for Worship"  workshop for ministers presenting the psychological, cultural, and developmental factors of worship.  West Coast Ministerium of the Church of God
"What Every Child Wished Their Parents Knew".   Parent training in the spirituality of children. Mountain Park Church, Lake Oswego, Oregon.
"Authentic Worship"  workshop for church members on the factors involved in transcendent worship.
Healthy Pastors' Workshop- Regional conference for the Church of the Nazarene,    Matching notions of "Faith", "Belief", and "Understanding"
National Council for Adult Experiential Learning- Marylhurst University, Piagetian cognitive levels with the styles of intelligence posed by Gardner, et. al.
"Notions of Faith and Reverence in Worship". Directed to pastors and laity.   Washington State Camp Meeting for the Church of God